Tips Prepare Energy Experts for Range of Crises
Calypso Communications (www.calypsocom.com), a full-service strategic marketing, corporate communications, and business development consultancy, today presents crisis management recommendations to alternative and renewable energy generation and environmental technology professionals. Calypso, nationally recognized for its in-depth knowledge of the power industry, designed the tips to prepare energy experts and companies at all levels of development for a range of crises in this constantly evolving field.

"The energy industry is ripe for crises that are not always limited to traditional fossil fuel power generation," said Kevin Stickney, Calypso founder. "While many mistakenly avoid or deflect these situations, a crisis can be an unplanned opportunity to communicate key messages, strategic strengths, and corporate values."
To ease communication efforts while handling a crisis, Stickney recommends establishing a management plan well ahead of a potential situation. Some basic tips include:
1. Prepare in advance. A crisis is like a heart attack; the way you live beforehand is better protection than the way you respond afterwards. Do your homework, have a plan, designate a team… don't wait for the tingling left arm.
2. Respect perception. While a local labor issue, pollution infraction, or pricing change may strike you as insignificant, your customers, employees, and investors may think otherwise. A crisis is often based on a perception… and it's seldom yours.
3. Be early. Be honest. Be open. Designate someone to say something. Not always easy or intuitive for plant operators, it's critical to be concerned, engaged, and responsive. That doesn't mean you to need to have - or provide - any answers. Leave the disappearing act to pro golfers and politicians.
4. Deliver your messages. For every question about what went wrong, there's a corollary to what went right; without diminishing the importance of the event, get to these points quickly. Express concern and commitment - then move to the technologies, track record, policies, and people that define your firm's usual standards and its typical success.
5. Communicate in arrears. Break down what went wrong, who was impacted, why certain questions were asked, how issues were handled, and where improvements can be made. And make them. In advance. Most important, establish a culture of communicating, in the good times, with those who will need or want answers during any type of crisis.
Kevin Stickney has 30 years' executive-level experience in managing complex public affairs issues involving waste-to-energy, environmental technology, and a range of other industries. He is an expert in national and international media relations strategies and comprehensive employee, investor, and marketing communications programs for legislative, labor, and regulatory matters; technology and manufacturing sectors; service sector businesses, and capital project business development. Stickney has provided consulting and crisis communications and media training services worldwide, from Europe, Asia, and Australia to North America including Mexico, Canada, and the United States.
"There are no real secrets to effective, efficient, and responsible crisis management, just a few truths," said Stickney. "Crises will occur in your business, your stakeholders will be affected, and your company's reputation will change as a result. Those who take the initiative to prepare are often those who emerge from a crisis unscathed."
About Calypso Communications
Based in Portsmouth, New Hampshire and active in Washington D.C., Calypso Communications is a premier, award-winning strategic marketing, corporate communications, and business development consultancy. Highly sought after for its seasoned insight and perspective, Calypso effectively engages stakeholders crucial to driving business and value for clients in the alternative and renewable energy, independent power, utilities, energy venture capital, and environmental technology industries worldwide. Calypso serves clientele at all levels of development in renewable energy and power generation, including natural gas, nuclear, biomass, coal, thin-film solar technology, tidal, municipal waste-to-energy, biodiesel, wind, geothermal, ethanol, and cellulosic ethanol projects. The agency's roster of clients in these fields includes Covanta, Celunol, Green Earth Fuels, HelioSphera, and GenPower. For more information on how Calypso can focus your energy and environmental communications to maximize your bottom line, visit www.calypsocom.com.
For more information, please contact:
Cathleen Williamson
Public Relations Director
(603) 431-0816
cwilliamson@calypsocom.com
Featured Product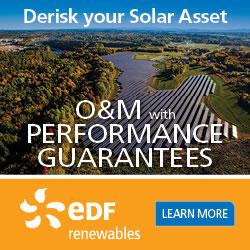 EDF Renewables offers the same innovative solutions that maximize the performance of our own 5.2 GW of installed projects. Because we're not an equipment manufacturer, our recommendations are transparent and data-driven. We cover the entire project lifecycle: from pre-commissioning support, through warranty and post warranty operation, to late stage and decommissioning.