HES Installs First MicroFIT Solar System at Ontario Farm
Barrie, ON March 18, 2010 - Recognizing the earning potential of harvesting solar energy under Ontario's MicroFIT solar program, Gallagher Farms approached Home Energy Solutions to reap the benefits from its farm's unused roof space. They installed the new roof mounted HES-GT-10.3 solar system, which will generate electricity which the Gallagher can sell to the Ontario Power Authority at a rate of 80.2 cents per kilowatt hour (kWh) produced. With their MicroFIT solar system the Gallaghers will receive over $10,000 annually for 20 years under the 2009 MicroFIT contract.

"We always loved the idea of the farm producing clean energy from the sun" says Nancy Gallagher, "then the MicroFIT program came along and we found a great opportunity to make money and green energy". The Gallagher's initial investment of $80,000, for their turn-key 10kW solar system, will be recouped in the first 8 years and will yield over $200,000 by expiration of the OPA MicroFIT contract. The revenue generated from their solar investment is enough to cover their entire monthly electrical costs, and is expected to generate power up to ten years past the contract.
"There is a great race to get systems in this summer" says President of Home Energy Solutions, Dave Egles. "The Return-On-Investment is very high in Ontario, but changes in the rules in 2011 may make systems more expensive. Clearly there is a huge opportunity for farmers to benefit from installing solar this year".
The timing of the investment works out incredibly well for the Gallaghers. Under the 2009 MicroFIT agreement, solar systems under 10kW have a special tariff rate of 80 cents per kWh, plus they fast track the application process and are automatically eligible for a contract. Farms can also installer larger systems up to 250kW, but these have a lower tariff, need to pass connection testing, and take longer to commission.
For Ontario farmers like the Gallaghers, Home Energy Solutions MicroFIT solar systems offer a variety of mounting options and attractive financing packages that can generate immediate cash flow. The installations also maintain a sleek profile and boasts a 25 year warranty, featuring leading industry brands and equipment. For more information on installation and financing packages, please visit www.solarforfarms.ca.
About Home Energy Solutions
Award-winning Home Energy Solutions is Canada's premier provider of renewable solar energy systems. Founder and President David Egles is one of Canada's leading solar experts with over 20 years experience at the helm of several nationally prominent solar companies and past President of the Canadian Solar Industries Association (CANSIA).
More info call Toll Free: 1.866.258.0110 or visit www.heshomeenergy.com
Photos: http://www.flickr.com/photos/hespv/sets/72157623118704531/
Featured Product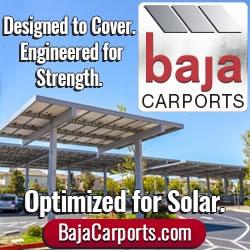 Baja Carports offers an extensive solar support system product line customized to customers' site specifications by in-house engineers, meeting their parking lot coverage, plus optimal PV production needs. Baja's Full Cantilever Tee is often paired with its Semi and Full Cantilever carports to meet live/loads up to 60psf and wind speeds to 160mph. All Baja products are pre-fabricated, bolted connections, pre-galvanized structural steel for fast on-site installation and project aesthetic requirements."