Solar Photovoltaic Training certification class.
Dear Educational Director,

In keeping with the "12 in 6" Work Training Initiative proposed by Gov. Bev Purdue to assist North Carolinians who have lost jobs due to recent layoffs and plant closures, we are offering an opportunity to participate in a FREE 5-day Solar Photovoltaic Training certification class.
Through ongoing efforts North Carolina's Incumbent Workforce Development Program under the federal Workforce Investment Act broadens the scope of the state's existing incumbent worker initiative.  The program provides funding to established North Carolina businesses to provide educational and skills training for current workers.  It is designed to benefit businesses by enhancing the skills of employees, thereby increasing employee productivity and the potential for company growth.  Training in portable skills results in a more highly skilled and versatile workforce that contributes to North Carolina's ability to attract new business and creates an environment conducive to expansion.
The application deadline date for this round of approvals is Wednesday, April 14th, 2010 by 4pm. Classes will begin June 21th, 2010.
If you are interested in taking advantage of this opportunity then contact Kenneth Steele of Solar Eleets at 941-756-2226 or email at ksteele@solareleets.com.
Sincerely,
Kenneth Steele
Featured Product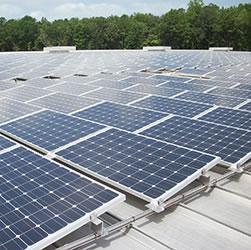 The Power Rail™ Commercial Mounting System is designed with the professional PV solar installer in mind. Both the XD/UD and LD/MD rails feature single tool assembly with the revolutionary patented RAD™ Lock-in-Place bolt for fast and secure module clamping. The high strength marine-grade aluminum rails include an integral wiring channel for securing cables and providing a professional finish.