Krayden, Inc. signed a distribution agreement with Dow Corning Solar Solutions to address growing industry needs in solar manufacturing.
DENVER ó Krayden, Inc., a leading silicone supplier that specializes in technical knowledge and support for high tech-based applications, signed a distribution agreement with Dow Corning Solar Solutions, a global leader in silicones and silicone-based technology, to address growing industry needs in solar manufacturing.

In an unprecedented agreement with Dow Corning Solar Solutions, Krayden, Inc. is now an authorized distributor of its PV-based silicone materials. Krayden, Inc. offers manufacture trained representatives for both established and new silicone materials being developed by Dow Corning to increase efficiency in the solar panel and photovoltaic manufacturing industries. Combining the technically trained support, re-packaging and dispensing solutions offered through Krayden, Inc., the pioneering silicone materials: adhesives, sealants and encapsulants, being produced by Dow Corning Solar Solutions now provides the complete support required to accommodate the evolving solar market.
"Working with OEMs side by side, testing materials, seeing what works, what needs adjustment is what we do best. Prior to the boom in alternative energy manufacturing, we have been well-established supporting electronics and related industries. Sliding that knowledge and support to photovoltaics, solar panels, wind turbine and related manufacturing challenges was a natural addition. With the same challenges to consider ― cost, efficiency, and environment ― we have the experience and knowledge base to make a difference and assist in quickly moving to resolutions," said Wayne Wagner, President of Krayden Inc.
Many new materials are being produced by Dow Corning aimed at significantly increasing production rate and lowering the watt of solar power. Some silicone products in demand include encapsulants, PV Cell and Module Coatings, PV Junction Box Potting Agents, PV Rail Bond Adhesives, PV Frame Sealants and PV Junction Box Adhesives. These products, along with technical support in applications, will be more accessible to a broader spectrum in the solar panel industry with the distribution services now offered by Krayden, Inc.
###
About Krayden, Inc.
Krayden, Inc. is a stocking distributor featuring adhesives, sealants, encapsulates, coatings, solder, solder chemicals, release agents, dispensing equipment and supplies with locations throughout the United States and Mexico. The company represents only the leaders in the engineered materials industry, and is fully supported by these manufacturers as well as committed to updating its customers' about new products for their applications. Krayden, Inc.'s inventory is constantly being monitored for quality and shelf life at all locations. The company has the ability to customize its inventory based on customer's requirements, and it prides itself on having technical knowledge of its product lines. For more information, visit Krayden, Inc. at www.krayden.com.
About Dow Corning
Dow Corning Solar Solutions (www.dowcorning.com/solar ) is one of the only companies in the world offering silicone-based solutions throughout the solar value chain. At many steps in the value chain, it uncovers and creates new opportunities to deliver improved cost efficiency, durability and performance to the solar industry. Making solar energy economically competitive with traditional energy sources is a corporate priority for Dow Corning, directly linked to its commitment to sustainability.
Featured Product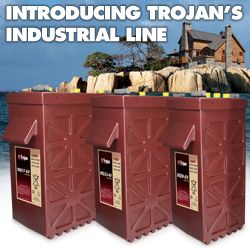 Trojan's deep-cycle batteries provide rugged durability, outstanding performance and long life for use in all types of solar energy installations. With over 90 years of experience, Trojan delivers the world's most reliable and trusted batteries in flooded, AGM, Gel, and Lithium types. These batteries enable solar equipment systems to operate at a peak level of performance in the harshest conditions or the most challenging of locations and are manufactured and tested to IEC standards.