Solar Installers from Hawaii to Canada Endorse Modular Ground-Mount SolarGiant for Swift, Economical Installation Time
Denver, CO (Vocus/PRWEB) May 3, 2010 -- Conergy's SolarGiant III ground mount solar energy solution is earning acclaim as one of 10 Photovoltaic (PV) Picks for 2010, according to the global solar experts at Seoul-based InterPV Magazine.

The SolarGiant was selected as one of InterPV's 10 PV Picks for 2010 from a pool of more than 929 companies on hand at this past October's annual Solar Power International conference in Anaheim, California. Hosted by the U.S.-based Solar Energy Industry Association (SEIA) and the Solar Electric Power Association (SEPA), the conference drew more than 24,000 industry professionals from 99 countries.
"This installer- friendly, no frills ground-mount solution caught our attention when we heard the feedback of the first contractors to install it in Canada and the U.S., who said they felt its ease of installation and scalability make this modular system a big contender to become the standard of ground-mount solar solutions on the North American continent," said Jeanny Lim, Editor-In-Chief, InterPV Magazine.
This month, engineers, electricians, contractors, sales specialists, solar installers and entrepreneurs from across the U.S. will join Conergy's global team to discover just how simple it is to construct the SolarGiant - and they'll do it on the floor of the Phoenix Arizona Convention Center as part of Solar Success!, North America's largest professional solar training event.
Presented by the non-profit American Solar Energy Society (ASES) and produced by the solar energy team at Conergy, Solar Success! features a powerful line-up of the industry's most knowledgeable financial and technology experts to share winning business practices, product advances from industry giants like SANYO, Fronius, Quick Mount PV, S-5!, Power Battery Company, Schneider, Unirac and SMA Solar Technology. It also provides custom, state-of-the art technical training that is aligned with NABCEP1 learning and certification objectives. As a not-for-profit training event, its cost may be a tax deductible business or training expense. Solar Success! is slated for May 17-22, 2010 in Phoenix, at the Arizona Convention Center.
Solar Success! offers a flexible menu of over 30 interactive sessions for those looking to break into the business and to help the most experienced installers keep pace with growing project sizes. Learn more at www.solar2010.org.
"The SolarGiant is designed to reduce the overall cost of small commercial to full utility-scale projects by reducing the labor involved in assembling and erecting the mounting structures, module installation and site preparation," said Conergy's SolarGiant Product Manager Don Massa.
Each SolarGiant is supplied as a complete kit with pre-assembled components for just about any module type. The German-designed, North American-made structure has been carefully engineered to minimize the parts count and provide for fast and easy assembly using only two people, saving installers - and their customers -- time and money. The folks at Conergy have introduced a SolarGiant video that demonstrates how two people can install a 5 kW system in around an hour.
It is those who were among the first to install the SolarGiant in North America last year - Canadian distributors in Ontario and American distributors in Hawaii who are among the most enthusiastic.
Mike Caroll and Stan Dillon of Hawaii Pacific Solar installed the first SolarGiant in North America. According to Caroll, the 10.8 kW system took only half a day to install and certify, whereas a traditional roof-mount system of this size would have taken up to two days.
"This sort of reduced installation time will save our clients thousands of dollars when the product is employed on a commercial or utility scale," noted Conergy's Regional Account Manager Caldwell Zimmerman. "As installers become acquainted with the product's scalability, versatility and ease of installation, they're conveying that SolarGiant should be the new standard North American ground mount racking solution," he said.
While its proponents note that the SolarGiant III is a grand solution for all site conditions, its ballasted, concrete footers are useful in anchoring the array against dangerous wind uplift. Because it can rest on most any site surface, it is especially economical in open field solar farms with difficult ground and soil conditions involving rocky soils, sandy soils and high water tables - conditions that make conventional arrays using driven posts, earth augers, caissons or screw piles expensive or impractical.
SolarGiant's aluminum and stainless steel construction holds up well in marine and coastal environments, where often-times steel -- even galvanized steel -- may not be permitted. And its ballasted mounting bodes beautifully for less tony neighborhoods as well: it's ideal for landfills and brownfield sites, where earth-penetrating anchors are not an option.
With production facilities in both the US and Ontario, Canada, the bottom line for this remarkable ground-mount system is breaking new ground for installers in the North American marketplace.
To see all of InterPV Magazine's \\\\\'10 PV Picks for 2010' and read InterPV Magazine's "10 PV Picks for 2010" cover feature in its entirety, please visit: http://www.interpv.net/parking/ebook/20101/viewer_frame.html.
About InterPV Magazine: InterPV Magazine is a monthly business magazine covering global industry news and trends in the solar photovoltaic industry. It is distributed to tens of thousands of industry professionals in Europe, Asia, Africa and North America. Learn more at www.interpv.net.
About CONERGY: In North America, Conergy supplies, manufactures, finances, designs and installs quality solar photovoltaic (PV) solutions for major commercial sectors, public agencies, businesses and homeowners through two distinct channels. Conergy's Distribution Group serves a national network of installers, developers and dealers in the grid-tied and off-grid residential realm while serving the needs of small commercial markets. Conergy's Projects Group focuses on custom solutions for large-scale, energy-intensive enterprises. With operations in 15 countries over 4 continents and eleven years' market experience, Conergy has deployed projects totaling over 1.25 Gigawatts of renewable energy capacity around the world. Learn more at www.conergy.us.
Featured Product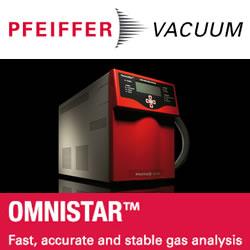 The Pfeiffer Vacuum OmniStar benchtop analysis system offers you a compact footprint, powerful software and Ethernet connectivity. It's the optimum solution for many real-time gas analysis applications. With the OmniStar, Pfeiffer Vacuum offers you a complete solution for gas analysis, in chemical processes, semiconductor industry, metallurgy, fermentation, catalysis, laser technology and environmental analysis. The turnkey OmniStar gas analysis system consists of heated, temperature-regulated gas inlet system, Quadrupole mass spectrometer, a dry diaphragm vacuum pump and HiPace turbopump. Unlike competing methods such as FTIR, OmniStar is suitable for qualitative and quantitative analysis of most gases.