Acro Energy Technologies Corp. (TSX Venture: ART) and Central Valley Nissan have entered into a joint marketing agreement to promote sales of Nissan's new Leaf electric car and Acro Energy solar energy solutions and services to environmentally-minded consumers in central California.
HOUSTON, Texas, and MODESTO, Calif. (May 11, 2010) -- Acro Energy Technologies Corp. (TSX Venture: ART) and Central Valley Nissan have entered into a joint marketing agreement to promote sales of Nissan's new full-sized Leaf electric car and a range of Acro Energy solar energy solutions and services to environmentally-minded and cost-conscious consumers in central California.

Headquartered in Houston and with operations in California, Acro Energy is one of the leading residential installers of solar energy systems in California. Central Valley Nissan is one of several established auto dealerships operating under the Central Valley Automotive umbrella. Central Valley Nissan is located at 4460 North McHenry in Modesto, Calif. Central Valley Automotive is a family-owned automotive group in operation since 1963.
The joint marketing agreement with Acro Energy and Central Valley Nissan can be extended to include electric car models that are expected to be introduced in the future by other automakers and sold through some or all authorized Central Valley Automotive dealerships. In addition to Central Valley Nissan, Central Valley Automotive owns and operates Chrysler, Jeep, Dodge, RAM Truck, Nissan, Infiniti, Volkswagen and Hyundai dealerships which are all located along North McHenry Avenue in Modesto.
The Leaf, which is being built in Japan and the United States, is the first completely electric vehicle and will be delivered by Nissan to California buyers in the fall of 2010. Potential Leaf buyers can visit Central Valley Nissan to register online and pay a small deposit to ensure that an adequate number of Leaf vehicles will be manufactured to satisfy demand.
The Leaf gets the equivalent of 367 miles per gallon of fuel on electric power, which is different than hybrid models currently available from other automakers. The electric car can travel about 100 miles before requiring recharging at a recharging station or at the car owner's home. State and federal tax credits are available for Leaf buyers. The base price of the car before rebates is expected to be about $32,000.
"Teaming with Acro Energy simply makes great business sense," said John Gardner, president of Central Valley Automotive. "Buyers who are interested in energy-efficient cars are likely to also be open to clean energy sources like solar power, which is Acro Energy's area of expertise. The demographics match up well and will provide another level of benefit to energy-aware clients."
Central Valley Nissan and Acro Energy will offer literature about the Leaf and solar energy solutions and services to their current and future clients, as well as provide charging stations at Central Valley Nissan. Additionally, Acro Energy will be able to equip Leaf buyers with solar powered charging capabilities in their garages at home.
Consumers interested in installing a solar system from Acro Energy also qualify for rebates and tax incentives.
Sam Palermo, director of strategic alliances for Acro Energy, predicts that Central Valley Nissan Leaf customers will welcome the opportunity to save on energy recharging costs by purchasing or leasing solar systems to charge their Leaf.
"We were immediately impressed with the enthusiasm that owner John Gardner and General Manager John McSherry had for this project. We intend to have a long-term relationship that will increase sales of Central Valley Nissan electric cars and Acro Energy solar installations for many years," Palermo said.
For more information on Central Valley Nissan, please visit www.centalvalleynissan.com; call John McSherry at 209/557-2438; or email jmcsherry@cvaauto.com.
About Acro Energy
Acro Energy Technologies Corp. is focused on the consolidation and growth of renewable energy companies, primarily in the United States residential solar energy installation market. Acro Energy provides practical solutions to individuals, businesses, non-profit organizations, and governmental entities that can benefit from the value of solar power. As a high-end system integrator, Acro Energy offers quality products from leading solar module manufacturers including Sun Power, Snitch, and Sharp and residential solar financing plans from Sun Run, the nation's leading provider of home solar financing. Acro Energy continues to evaluate acquisition candidates across North America.
For more information, please visit www.acroenergy.com or email info@acroenergy.com.
###
Neither TSX Venture Exchange nor its Regulation Services Provider (as that term is defined in the policies of the TSX Venture Exchange) accepts responsibility for the adequacy or accuracy of this release.
This news release may contain "forward-looking statements" within the meaning of applicable securities laws. Forward-looking statements address future events and conditions and therefore, involve inherent risks and uncertainties. Actual results may differ materially from those currently anticipated in such statements. The Company assumes no obligation for the accuracy or completeness of those forward looking statements and undertakes no obligation to revise these forward looking statements to reflect subsequent events or circumstances. Readers are cautioned not to place undue reliance on the forward-looking statements made in this Press Release.
Acro Energy Investor contact: Martin C. Spake, Chief Financial Officer, Acro Energy
713/715-1004; mspake@acroenergy.com
Media contacts: Laura Pennino for Acro Energy
281/286-9398 X 1 or 713/419-1776 mobile lp@penninoandpartners.com
John Gardner, President, Central Valley Automotive Group and Central Valley Nissan
209/526-3300, cvagardner@aol.com
Featured Product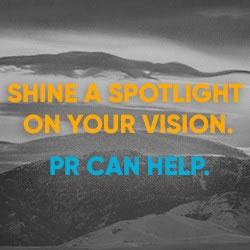 FischTank Marketing and Public Relations provides communications and marketing services to both start-up and established renewable energy companies. We provide media relations, content writing, digital/social media, and other marketing support to companies working in sectors spanning solar, LED lighting, energy storage, hydrogen, battery development and manufacturing, alternative fuels, and more. Our clients have been featured in top tier media including print, online and broadcast.