Schneider Electric announces the newly improved service plan for their Three Phase solar inverters. The Advantage Ultra Service Plan includes: a guarantee that the inverter will be technically available at least 97.5% over a rolling period, a warranty extension and annual preventative maintenance.
Burnaby, BC, May 12, 2010 — Schneider Electric's Renewable Energies Business is excited to announce the newly improved Advantage Ultra Service Plan for Schneider Electric Three Phase Inverters field serviceable products. This plan, created in 2009, is comprised of three components: a guarantee that the inverter will be technically available at least 97.5% over a rolling period, a warranty extension beyond the normal warranty period and annual preventative maintenance visits. In the event that Schneider Electric cannot meet the 97.5% limit, financial compensation will be provided to the customer.

"We are more readily able to see the overall health of our entire fleet as we track the uptime percentage of all three phase units that are in warranty and act rapidly in the event a situation occurs." says Melanie Schilling, Senior Manager, Global Customer Service. "This means our customers are buying peace of mind. In many cases, when a customer reports that the inverter is down, it is due to something other than an inverter issue. This can include utility problems (localized brown outs), array problems (ground faults) and customer induced problems (someone turned the inverter off)."
Schneider Electric understands the importance of having inverters technically available and to stay above the 97.5% limit. To support this guarantee, Schneider Electric has enhanced troubleshooting capabilities and will visit the customer at least once a year to perform an inspection of the inverter as well as complete all required preventative maintenance. Schneider Electric monitors the status of every unit covered by our Advantage Ultra contracts in order to prioritize the company's response accordingly any time a service case is opened for one of these inverters.
The monitoring report structure has been improved and now includes several new reports such as uptime by customer, uptime by site, and under performers. These reports enable Schneider Electric service managers to identify problems, enabling the company to provide more proactive service to ensure customer's sites are operating with higher efficiency and less down time.
The Schneider Electric Xantrex™ GT Three Phase Inverters offer an easy-to-integrate solution for utility scale plants with competitive efficiency, which is easy-to-install and is backed by one of the best service programs in the industry. All inverters are listed to UL 1741 and IEEE 1547 and are listed with the California Energy Commission. With warranties available for up to 10 years of coverage, service contracts and uptime guarantees for up to 20 years, Schneider Electric Xantrex GT Inverters will help to maximize your return on investment and lower your total cost of ownership.
About Schneider Electric
As a global specialist in energy management with operations in more than 100 countries, Schneider Electric offers integrated solutions across multiple market segments, including leadership positions in energy and infrastructure, industrial processes, building automation, and data centres/networks, as well as a broad presence in residential applications. Focused on making energy safe, reliable, and efficient, the company's
100,000 plus employees achieved sales of 15.8 billion euros in 2009, through an active commitment to help individuals and organizations "Make the most of their energy".
www.schneider-electric.com
Schneider Electric, the Schneider Electric logo and Xantrex are trademarks or registered trademarks of Schneider Electric.
Featured Product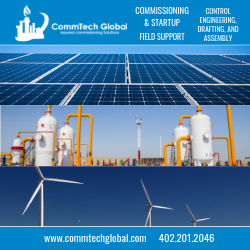 CommTech Global Solutions, LLC, provides professional and reliable commissioning services to customers in all realms of the energy industry. We blend our skills in engineering and technology with innovative business models, offering a complete range of services to assist you for a successful and in compliance operational startup. Consolidation of all our service domains gives our clients a comprehensive set of expertise and far-reaching experience on each project.