Tehachapi, CA, UNITED STATES, May 19, 2010 – FOR IMMEDIATE RELEASE: CONTACT: Jeff Duff Airstreams Renewables, Inc. Voice Phone Number: 661-822-3963 FAX Number: 661-822-6966 Email Address: inquiry@air-streams.com Website URL : www.air-streams.com May 20, 2010: Airstreams Renewables, Inc. and ENS
Airstreams Renewables, Inc -- leaders in career safety and technical training and ENSA Access & Rescue, Inc. --

a leader in wind energy specific height/rescue and confined space training -- today announced that the two
companies have entered into an agreement for Airstreams Renewables, Inc. to acquire the ENSA Access &
Rescue platform, creating the most comprehensive and flexible total training solution available in the market
today. "This merger represents a strategic move for both Airstreams and ENSA, to leverage each other's core
strengths and deliver increased value to the markets in which we serve," said Jeff Duff, Airstreams President and
COO.
"Our customers require flexible training solutions that address the full range of required training through
competitive delivery options. This merger will enable the Airstreams/ENSA platform to meet the industry demands
given the forecasted growth expected in wind, while maintaining the quality of our training programs and services
that our customers have come to expect."
The deal is expected to close by July 1st positioning ENSA as a wholly owned subsidiary of Airstreams
Renewables, Inc. Under the terms of the agreement, ENSA will continue to service on-site training throughout
North America while leveraging Airstreams existing total training solution centers located in Tehachapi, CA and
Gary, SD.
"For training to be truly effective it must meet both the regulator's and industry guidelines and the specific needs
of each customer's unique situation," commented Nicholas Jones, the CEO of ENSA. "Increasingly, this takes
resources, bandwidth, and highly trained specialists able to service the entire training spectrum and significant
wind specific knowledge and experience. Our customers can now choose comprehensive training solutions on-
site, using our new mobile tower or take advantage of our existing total training centers."
About Airstreams
Airstreams Renewables, Inc. (ARI) offers safety and technical training solutions throughout the renewable energy sector that
are focused on core skill sets designed to meet industry standard expectations for both entry level and advanced construction
and service technicians. Courses are instructed by industry experts with over 200 years of combined experience in the wind
and renewable energy industry. For additional information visit our website at www.air-streams.com
About ENSA
ENSA Access & Rescue provides industry recognized height rescue and confined space training, which conforms to BWEA
guidelines and ANSI Z490.1 training criteria. ENSA works with employees and managers in designing, developing, deploying
and delivering world-class training that results in a safety culture that supports your corporate mission. For additional
information visit our website at www.ensausa.com
Press Contact:
Jeff Duff
661 822 5624
jeffduff@air-streams.com
Featured Product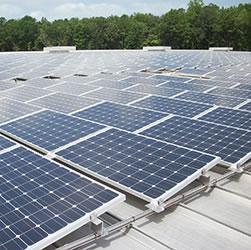 The Power Rail™ Commercial Mounting System is designed with the professional PV solar installer in mind. Both the XD/UD and LD/MD rails feature single tool assembly with the revolutionary patented RAD™ Lock-in-Place bolt for fast and secure module clamping. The high strength marine-grade aluminum rails include an integral wiring channel for securing cables and providing a professional finish.