Second Wind and Sirius Integrator partner to offer backup energy source that powers Second Wind\'s Triton® Sonic Wind Profilers during long stretches of cloudy weather when there isn't enough sunlight to drive their built-in solar panels.
DALLAS, May 26, 2010 - Wind measurement technology company Second Wind today announced a backup energy source that powers its Triton® Sonic Wind Profilers during long stretches of cloudy weather when there isn't enough sunlight to drive their built-in solar panels.

Developed with alternative energy solutions partner Sirius Integrator, the backup system is based on a reliable, cost-effective variation of fuel cells powered by methanol. Combined with Triton's low power requirements and its primary energy system - onboard batteries recharged by the solar panels - the backup system enables units deployed in remote locations to operate for 60 days or longer with little or no solar charging. The backup system automatically cuts in during extended low-sunlight periods, then shuts off when the solar kicks back in, enabling Triton to continue collecting wind data without interruption.
"Providing green highly reliable power for remote instrumentation, such as the Triton, is the focus of our business", said John Merlino, president of Sirius Integrator. "Second Wind's Triton system is a perfect application for a low-power direct methanol fuel cell."
Wind energy companies use Triton to study wind conditions at proposed wind farm locations and for operating wind farms. Triton provides wind farm developers and owners with advanced information about the wind at the site, which helps streamline project financing, development and operations. Users can monitor Triton remotely in near-real time through Second Wind's Web-accessible SkyServe® network. The portable Triton units can be deployed for more than a year in remote, off-electrical-grid locations, including extreme northern and southern latitudes that have short daylight hours and are often cloudy for days on end.
"There is a lot of money riding on every decision to site a wind project. Poor siting can cost a wind turbine up to 10 percent of its potential annual output," said Walter Sass, chief technology officer and one of Second Wind's founders. "Our customers count on Triton to provide a comprehensive seasonal wind profile, which means no breaks in the data stream. Through our partnership with Sirius Integrator, we've been able to add another layer of backup to keep Triton units collecting data even at sites with minimal sunlight during winter's shortest days."
About Sirius Integrator Inc.
Sirius Integrator is uniquely focused on integrating remote off-the-grid power solutions into seismic, wind, forestry, weather, communications, law enforcement, physical & homeland security, and academic applications needing up to 450 watts of continuous power. The company's focus is providing green hybrid remote power solutions ensuring that mission critical devices stay on for extended periods of time. For more information visit www.siriusintegrator.com.
About Second Wind
Second Wind develops wind measurement systems that make wind power pay off for consumers, investors and the environment. The company's technology provides wind farm developers with the bankable wind data they need to plan, finance and operate highly efficient wind generation facilities. Second Wind\'s systems are making wind farm development profitable in 40 countries on seven continents. Second Wind\'s systems include the wind industry\'s leading remote sensing system, wind data logger and web-based data service. For more information about Boston-based Second Wind, please visit www.secondwind.com.
# # #
See Second Wind at Booth # 6613 at WINDPOWER 2010, and see Triton in the outdoor demonstration area at Booth 30221
Featured Product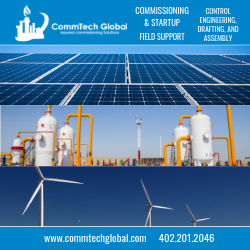 CommTech Global Solutions, LLC, provides professional and reliable commissioning services to customers in all realms of the energy industry. We blend our skills in engineering and technology with innovative business models, offering a complete range of services to assist you for a successful and in compliance operational startup. Consolidation of all our service domains gives our clients a comprehensive set of expertise and far-reaching experience on each project.