Array to Provide Insight Into Interactivity Between Solar and Utility Infrastructure
PALO ALTO, Calif. (June 23, 2010) -- The Electric Power Research Institute (EPRI) and SolarCity®, a national leader in solar financing, design, installation, monitoring and related services, announced a project today that will install a 187-kilowatt solar photovoltaic (PV) research system at the institute's headquarters.

The SolarCity PV rooftop system is expected to produce more than 7.3 million kWh over the next 30 years and offset about 11 percent of EPRI's annual power usage at its four-building research campus. When completed in mid-August, it will be the second largest solar installation in Palo Alto.
The PV array will facilitate EPRI's research on a low-carbon generation portfolio in which solar and other renewables, such as wind and biomass, will play an increasing role in the future. It is expected to provide real-time data on electricity generated that will be used to measure the impact of variability on a distribution system. Additionally, it will supply power-quality data that could be used for distribution circuit analysis and assessment of optimized performance levels.
"The SolarCity system will help us better understand distributed resources and how we can reliably integrate them into distribution systems," said EPRI President and CEO Steve Specker. "This project is a key part of our sustainability program to reduce our carbon footprint, and clearly demonstrates how we can address environmental goals in a cost-effective manner."
SolarCity estimates that over the next 30 years, the system will offset the production of more than 4.6 million pounds of carbon dioxide, a leading contributor to climate change. It is also expected to offset the release of significant amounts of compounds and particulates that contribute to smog, acid rain and can cause asthma and other respiratory ailments. The system will be financed through a power purchase agreement with SolarCity.
"Our goal at SolarCity is to make solar a more widely used source of U.S. electricity generation," said SolarCity CEO Lyndon Rive. "EPRI's adoption and study of its solar energy system can teach us important lessons about how solar can complement the utility grid and how best to mitigate the effects of variable weather conditions. We are honored to be selected for such an effort."
In May, EPRI joined the Solar Technology Acceleration Center (SolarTAC), an outdoor research laboratory in Aurora, Colo., where members test, validate and demonstrate advanced solar technologies. EPRI is actively pursuing research on two demonstration projects using solar thermal energy in conjunction with traditional fossil generation sources.
About the Electric Power Research Institute
The Electric Power Research Institute, Inc. (EPRI, www.epri.com) conducts research and development relating to the generation, delivery and use of electricity for the benefit of the
public. An independent, nonprofit organization, EPRI brings together its scientists and engineers as well as experts from academia and industry to help address challenges in electricity, including reliability, efficiency, health, safety and the environment. EPRI's members represent more than 90 percent of the electricity generated and delivered in the United States, and international participation extends to 40 countries. EPRI's principal offices and laboratories are located in Palo Alto, Calif.; Charlotte, N.C.; Knoxville, Tenn.; and Lenox, Mass.
About SolarCity
SolarCity—a national leader in solar power system design, financing, installation, monitoring and related services—was founded with the mission to help millions of homeowners and businesses adopt solar power, protect themselves from rising electricity costs and protect their environment from polluting power sources. The company's SolarLease®, PurePower™ and Commercial Power Purchase Agreement (PPA) options can make it possible for homeowners and businesses to switch to clean, solar power for less money than they currently pay for electricity. SolarCity currently serves more than 1,000 communities in Arizona, California, Colorado, Oregon and Texas. Additional information about the company is available on the Web at www.solarcity.com.
Media Contacts
Jonathan Bass
SolarCity
650-963-5156
jbass@solarcity.com
Clay C. Perry
EPRI
202-293-6184
clperry@epri.com
Featured Product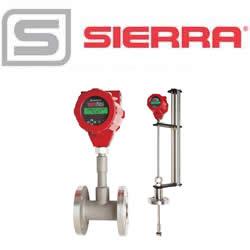 Sierra was the first to introduce a combination volumetric vortex and multivariable mass flow meter in 1997. Today, Sierra's completely redesigned InnovaMass® iSeries™ 240i/241i builds on two decades of success measuring five process variables for gas, liquid and steam with one connection. Now, with the latest hyper-fast microprocessors, robust software applications, field diagnostic and adjustment capability, and a new state-of-the-art flow calibration facility, Sierra's vortex iSeries delivers precision, performance, and application flexibility never before possible.