Partnership Merges PPC's Sustainability Consulting Expertise With ENXSUITE's Best-in-Class Energy Performance Management System
ENXSUITE PARTNERS WITH PROJECT PERFORMANCE CORPORATION (PPC) TO DELIVER END-TO-END SUSTAINABILITY SOLUTIONS

Partnership Merges PPC's Sustainability Consulting Expertise With
ENXSUITE's Best-in-Class Energy Performance Management System
McLean, VA and San Francisco—July 7, 2010—ENXSUITE, the provider of the first and largest Energy Performance Management platform in the world, has partnered with leading energy and environmental consultants Project Performance Corporation (PPC) to deliver visionary, integrated end-to-end sustainability solutions throughout North America. Through the partnership, PPC's accomplished team of environmental consultants, IT professionals, scientists and legal and regulatory experts will offer ENXSUITE's comprehensive, on-demand Energy Performance Management system to customers in the public and private sector.
"ENXSUITE and PPC share extensive experience helping large organizations meet or exceed their energy and sustainability goals," said Steven Chung, VP global sales and services, ENXSUITE. "PPC has established itself as one of the top names in energy and environmental consulting, with a distinguished roster of clients that includes the Department of Energy, the Department of Defense, and the EPA, as well some of the world's largest companies, such as AT&T, Boeing, ChevronTexaco, Lockheed Martin and Unilever. ENXSUITE's software helps Fortune 500 companies, as well as government agencies and municipalities, get maximum value from their energy and sustainability programs - reducing costs and risk, while improving levels of service. I am very happy to launch this collaboration with PPC, which will enable ENXSUITE to provide our clients with the industry-leading combination of technology and consulting services."
"This partnership presents vast and exciting opportunities for PPC and our clients," said Matt Low, Vice President of Climate and Sustainability Solutions at PPC. "ENXSUITE provides best-in-class software solutions and services to automate green data management and continuously improve sustainability management programs. This provides the perfect extension of PPC's sustainability management consulting expertise, empowering our clients to build sustainable organizations while reducing costs and identifying new revenue opportunities."
About ENXSUITE
ENXSUITE provides a comprehensive, integrated, on-demand energy performance management system whose actionable intelligence helps companies analyze, model, mine and manage the performance of all their enterprise-wide energy assets. Its software includes a sophisticated energy data integration platform and energy consolidation product that provides a unified view of energy, GHG, carbon, water, waste and other energy sources, and a rich set of business intelligence and data mining capabilities that enable companies to run their energy and sustainability initiatives like a business. Its modular approach enables companies of all sizes to monitor their energy consumption, model reductions and financial impact on operations, and continuously manage performance versus reduction targets. Its SaaS platform helps customers evaluate current inventories, plan for reductions based on solid ROI analysis, then execute and optimize their plans by connecting to the world's largest sustainability and energy management network.
About Project Performance Corporation (PPC)
Project Performance Corporation serves as the North American arm of internationally recognized consultancy AEA. As part of a 1,000-person, multi-disciplinary team of information technology professionals, project management experts, scientific and technical experts, and legal and regulatory specialists, PPC brings over 20 years of experience in environmental policy analysis, climate change markets, sustainability strategy consulting and information management solutions. Its environmental experts focus exclusively on climate change and sustainability issues with industry-leading knowledge in carbon management, regulatory compliance, resource efficiency, green supply chain management, eco-finance, sustainable transportation, and renewable energy technology. With offices in the Washington DC metro area and London, England, PPC is committed to helping organizations' transformation toward sustainability.
Media Contacts:
Jennifer Kutz
LEWIS PR for ENXSUITE
415-992-4400
enxsuite@lewispr.com
Debi McGhee
Corporate Communications, PPC
dmcghee@ppc.com
703-748-7574
Featured Product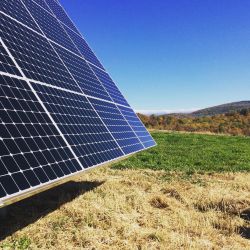 Designed and manufactured in the U.S., the AllEarth Solar Tracker is a complete grid-tied, dual-axis solar electric system that produces up to 45% more electricity than fixed systems. The tracker uses GPS and wireless technology to follow the sun throughout the day for optimal energy production. It has an industry-leading 10 year warranty and 120 mph wind rating, superior snow shedding, and automatic high wind protection. Its simple, durable design and complete system pallet simplifies costly procurement and installation time. Contact us about becoming a dealer partner or purchasing an AllEarth Solar Tracker.