TÜV Rheinland PTL to Reveal Photovoltaic Module Reliability and Performance at SolarTech Symposium
TEMPE, AZ and NEWTOWN, CT/July 12, 2010 — Fueled by public incentive programs, the photovoltaic industry's growth in the U.S. continues to rise but possibly at the expense of design quality. According to TÜV Rheinland PTL, LLC, a member of the world's largest solar and photovoltaic testing network, photovoltaic reliability is sometimes a delicate balance with module performance. This balance affects the way products are designed. As a result, some photovoltaic manufacturers are shifting their attention toward product performance features at the expense of design quality.

Dr. Govindasamy Tamizhmani, president of TÜV Rheinland PTL, will discuss the topic in his presentation "PV Modules Performance & Reliability: Impact on KWh/KW" at Intersolar North America's SolarTech Performance Symposium on July 12 at 2:30 p.m. PST. The event will take place at the Intercontinental Hotel, 888 Howard Ave., San Francisco, Calif.
According to Dr. Tamizhmani, system engineers accurately predict energy output over several decades by reviewing photovoltaic modules' performance characteristics at different temperatures and irradiances, and ensuring they meet the full requirements of the qualification standards. His presentation will discuss the following testing standards and results:
· Standard Test Conditions performance method
· Normal Operating Cell Temperature performance method
· Sandia National Laboratories performance method
· IEC's Temperature-Irradiance Pmax matrix method
· Failure analysis of qualification test results of more than 3,600 modules over 13 years
· Solar ABCs recommended policy for certification requirement in the U.S.
Dr. Mani is a professor in the Department of Electronic Engineering Technology at Arizona State University (ASU), the former director of ASU-Photovoltaic Testing Laboratory (ASU-PTL) and the current president of TUV Rheinland PTL, LLC. Dr. Mani has been involved in R&D activities related to photovoltaics and fuel cells for over 25 years, and photovoltaic module testing and certification activities for over 10 years. He has been involved in test standards' development activities since 1996. He has served or has been serving as a member of various standards committees including Canadian Standards Council, IEEE, IEC and ASTM. He has taught or been teaching graduate level courses related to photovoltaics, fuel cells, electrolysis and batteries, and has published more than 50 journal and conference papers. With funding supports from National Renewable Energy Laboratory (NREL), Sandia National Laboratories (Sandia), DOE's Solar ABCs and local utility companies, Dr. Mani's applied research group currently focuses on the performance and reliability issues of photovoltaic modules and systems. Dr. Mani is also a steering committee member of Solar ABCs.
Intersolar North America 2010 takes place from July 12 - 15 in San Francisco, and focuses on photovoltaics and solar thermal technology. This year about 550 international exhibitors, 20,000 trade visitors and 1,600 conference participants are expected to attend. For information or to register, visit Intersolar North America at www.intersolar.us.
Based in Tempe, Ariz., TÜV Rheinland PTL is a leading provider of safety and performance testing, and market certification serving every sector of the photovoltaic and solar thermal marketplace, from the supply chain through to installation.
TÜV Rheinland PTL is a unique partnership between Arizona State University, an institution with more than 50 years of research on solar energy and extensive solar testing know-how, and TÜVRheinland®, a $1.5 billion global provider of independent testing, assessment, and certification services. With an international network across six continents, TÜVRheinland® maintains the largest network of Solar Energy Laboratories worldwide, with five major laboratories on three continents.
For more information, visit www.tuvptl.com or call TÜVRheinland® at 1-TUV-RHEINLAND (888-743-4652). The company is also exhibiting at the show and can be found at booth #9431 on Level 3.
About TÜVRheinland®
TÜVRheinland® delivers premier independent testing, assessment, and certification services to help companies gain access into global markets. Boasting an international network across six continents, the company's in-country experts ease the path to compliance with cost-effective pricing and quick turnaround times. The $1.5 billion corporation is comprised of an international network of more than 13,300 employees in 61 countries and serves most industry sectors and markets worldwide. For more information, visit www.tuv.com.
Featured Product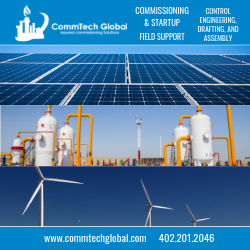 CommTech Global Solutions, LLC, provides professional and reliable commissioning services to customers in all realms of the energy industry. We blend our skills in engineering and technology with innovative business models, offering a complete range of services to assist you for a successful and in compliance operational startup. Consolidation of all our service domains gives our clients a comprehensive set of expertise and far-reaching experience on each project.