We are pleased to announce that Hyundai Heavy Industries and Matinee Energy have signed a master agreement for renewable energy projects in the United States.
Hyundai Heavy Industries and Matinee Energy sign a master agreement to build alternative energy plants
Matinee Energy, Inc. is proud to announce that it has signed a master agreement with Hyundai Heavy Industries Co., Ltd. to build 175MW of green energy plants in the first phase of their green energy initiative relationship. With this signing and the engagement of JPMorgan Securities to provide permanent financing in the capital market the company looks forward to the exciting times in front of it. Matinee's first phase of solar projects is based in the SouthWest and Western United States. Hyundai's initial role will be that of the EPC as well as technology provider.
Michael Pannos, chairman of Matinee Energy, said "Hyundai has been and continues to be a leader in research and development on how alternative energy plants can be built. That combined with their construction experience, procurement abilities, and core capabilities of integration all leads to the successful combination of the components to get the job done. These projects will create local jobs and power for thousands and thousands of homes and offices with clean energy." Chin Kim, vice chairman of Matinee, said "Hyundai, being the largest shipbuilder in the world and a major electrical equipment supplier in the U.S. will help Matinee be well positioned to breach technology and resource gaps."
Matinee has also signed a MOU with Korea Electric Power Data Network Co., Ltd., (KDN), an affiliate of KEPCO, and a pre-Master Agreement with K&Company, a public company in Korea, that leads a group of partners comprising of CHINT (China), AUO Solar Company (Taiwan) where both are major supplier of energy devices, and LS Industrial Systems Co. Ltd. of Korea, a major player of energy market.
Chin Kim said "These additional partners both large and small all bring special talents that make the team even stronger. That includes KDN's intimate knowledge of the electric power market to other members that bring special talents as suppliers in the energy market."
About Matinee Energy, Inc.
Matinee is positioning itself in the Market place to implement and deliver infrastructure-based services through local utilities and facility-based services in transport, energy, and utilities. Matinee's plans are to develop utility scale alternative energy projects that will make a material contribution to the alternative energy sector, and harnesses diverse participants from the U.S. and around the world to better the alternative energy markets.
About Hyundai Heavy Industries Co., Ltd.
Hyundai Heavy Industries (HHI) is the world\'s largest shipbuilder. Started in 1972, HHI\'s Shipbuilding division makes tankers, bulk and chemical carriers, containerships, and submarines, among other craft. It also provides offshore construction and exploration services and has expanded into areas such as robotic systems and large industrial pumps and presses. Additionally, HHI makes diesel engines and engine parts with industrial and marine applications. Other HHI offerings include electrical products (circuit breakers, switchgear, and transformers) and construction equipment (excavators, forklifts, and loaders).
Offshore and Engineering operates a 230-acre offshore yard and fabrication shop for engineering and construction of offshore oil and gas facility projects; production includes floating units, fixed platforms, pipelines, and subsea facilities.
Industrial Plant and Engineering carries out industrial plant projects for power generation, desalination, and oil and gas processing on a turnkey basis.
Engine and Machinery manufactures marine diesel engines and power plants, propellers, crankshafts, industrial robots, conveyor systems, and marine pumps (approximately 35% global market share).
Electro Electric Systems designs, engineers, manufactures, installs, and commissions electrical systems in power plants, locomotives, subways, and marine vessels. Products include transformers, switchgears, circuit breakers, power control and photovoltaic systems.
Construction Equipment has developed almost 100 independent models of construction equipment and industrial vehicles (excavators, wheel loaders, forklifts, and skid steer loaders) and plans to launch new equipment lines in 2009.
###
Matinee Energy, Inc.
Chris Connell
VP Business Development
702-287-3781
E-mail chris.connell@matineeenergy.com
FOR IMMEDIATE RELEASE
Featured Product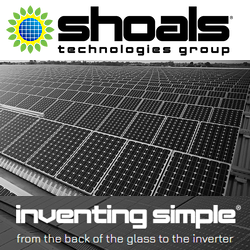 Inventing Simple® isn't just a slogan to us, it's a way of life. Using simple plug-and-play ideology, we revolutionized solar installations in 2003 with our Interconnect System™. Our harnessing system is now the gold standard EPC's use around the world. By using simple ideas, we are making solar energy a more affordable and clean power source for future generations.