We would like to inform you that the 7th International Congress and Exhibition on Energy Efficiency /EE/ & Renewable Energy Sources /RES/ for South-East Europe and the 2nd International Eco Forum "Save the Planet" will be held in the period 13-15 April 2011 in Sofia, Bulgaria.
7th EE & RES Congress and Exhibition for South-East Europe

International Congress and Exhibition on Energy Efficiency and Renewable Energy Sources
13-15 April 2011, Bulgaria, Sofia, Organizer Via Expo
Innovative technologies and practices, strong international participation, a lot of new business contacts, many parallel initiatives and discussions - this is what the 7th edition of the International Congress and Exhibition on Energy Efficiency /EE/ and Renewable Energy Sources / RES / for South-Eastern Europe will offer. Germany is again the Strategic partner of the event.
Participants will learn about the latest trends, get expert analysis and forecasts, will make face-to-face contacts with representatives of institutions and public administration, managers, investors and industry experts from the following sectors: RES and Energy Efficiency; Power Engineering; Finance and Investments; Construction and Architecture; Ecology, Water, Waste; Transport and fuels; Machinery construction, Electronics and Automation; Food industry, Tourism, Agriculture, etc.
Topics: Speakers from Bulgarian and foreign companies, institutions and associations will present the latest achievements and novelties in the field of the renewable energy and energy efficiency: technologies for solar, wind, hydro, geothermal and bio energy, energy efficient solutions, project financing and investment.
The success of the exhibition in 2010 clearly demonstrated the interest of investors to the Bulgarian market - 90% growth in participants' number compared to 2009. RES and EE sector in Bulgaria is very dynamic and has attracted more investors in the recent years. It has proved as a key sector for achievement of economic, social and environmental sustainability.
The CONGRESS in 2010:
During the 3 days of the Congress presentations were made by 54 speakers from Austria, Belgium, Bosnia & Herzegovina, Bulgaria, Czech Republic, Denmark, Germany, Greece, Hungary, Italy, Luxemburg, Poland, Serbia, Spain, Sweden, Switzerland, the Netherlands and Turkey
The EXHIBITION in 2010:
There were 117 direct exhibitors - National and group participations from Germany, Austria, and USA as well as companies from Bulgaria, China, Czech Republic, Greece, Denmark, Israel, Russia, Finland, Slovakia, Switzerland, etc.
Congress - [http://www.viaexpo.com/index.php?option=com_content&view=article&id=30&Itemid=40〈=en]
Brochure - [http://viaexpo.com/images/stories/documents/ee_congress/leaflet_eng.pdf]
List of Exhibitors and Floor Plan from 2010 - [http://viaexpo.com/hall/5-6halls.html]
Exhibition - [http://www.viaexpo.com/index.php?option=com_content&view=article&id=9&Itemid=15〈=en]
Organizer: Via Expo, Bulgaria, Phone +359 32/960012, office@viaexpo.com; www.viaexpo.com; Contact: Maya Kristeva
***
Environmental International Forum SAVE the Planet - Waste & Water Management, Recycling
13-15 April 2011, Sofia, Bulgaria, Organizer Via Expo
[http://www.viaexpo.com/index.php?option=com_content&view=article&id=113&Itemid=138〈=en]
The Forum is a market and networking place for providers of technology and expertise in the sphere of waste management, recycling, treatment and water purification, air and soil preservation.
Over 250 participants attended the Conference in 2010- experts, managers and consultants. Speakers were from from Austria, Australia, Belgium, Bulgaria, Germany, Greece, Ireland, Norway, Spain, The Netherlands and UK.
The event focus country was the Netherlands. There was a Collective participation of Dutch companies realized with the partnership of the Economic Department to the Embassy of the Netherlands in Bulgaria, the Netherlands Water Partnership and the Netherlands Waste Management Partnership.
The Exhibition participants had the opportunity to meet and network with business executives, investors, representatives of local and regional authorities, decision makers in the field of investment policy, project developers, academics, specialists in all industry branches.
Through the start-up of the event Via Expo team aims at bringing expert international know-how and experience concerning innovative ecological practices that will positively influence the sustainable development in the Region as an important contribution to combating climate change.
The event was under the auspices of the Bulgarian Ministry of Environment and Water and the Energy Efficiency Agency. Some of the international partners are German Water Partnership, European Water Partnership, Netherlands Water Partnership, Netherlands Waste Management Partnership, European Organization of Strategic Planning, and WADE - World Alliance for Decentralized Energy. The Bulgarian branch partners are Bulgarian Association of Recycling, Energy Agency of Plovdiv, Information Group Passive Buildings Bulgaria, Bulgarian Association for Construction Insulation and Waterproofing, Bulgarian Water Association.
Post Show Report for 2010: [http://www.viaexpo.com/images/stories/documents/ee_congress/leaflet_eng.pdf]
Organizer: Via Expo Ltd., Bulgaria, Phone +359 32/960012, office@viaexpo.com
Contact: Maya Kristeva
Featured Product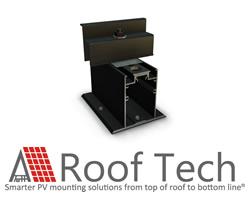 The most compact versatile rail-less PV mounting system under the sun. Instead of placing solar panels on top of long rails, simply attach E Mount AIR to rafters or the roof decking. Once panels are fastened to the roof, the system array is electrically bonded. The result is a visually seamless PV installation that stands the test of time. - Truly "One With The Roof". - PE stamped cert. letters available, UL 2703 Classified, ASTM 2140 fully waterproof. The one and only with integrated flexible flashing certified by the ICC! All the best quality. Only from Roof Tech