Industrial chemical/biotech leader joins full-time as Executive Chairman and Chief Business Development Officer
SAN DIEGO, Sept. 13, 2010 - Genomatica announced today that William H. (Bill) Baum has joined the company full time as executive chairman and chief business development officer. Bill will lead Genomatica's strategic partnerships with leading chemical producers, users, feedstock suppliers, brands and retailers.

Forty years of chemical and biotech leadership; $500 million in partnerships
Bill brings more than 40 years of global experience in the chemical space. Most recently, Bill was executive vice president, business development, at Verenium (formerly Diversa) and was part of the biofuels deal team working with the Galaxy BP/Verenium joint venture which concluded BP's recent acquisition of Verenium's cellulosic biofuels business. Previously, Bill was vice president of global sales and marketing with international specialty products (ISP), one of the leading producers in the world of 1,4-butanediol (BDO), where he led the sales and marketing of BDO and other higher value BDO derivatives. Prior to that, Bill was with Betz Laboratories, a specialty chemicals company, and held a variety of executive positions in the U.S. and Europe. Bill is an active leader in biotech, having served the past four years on the Industrial and Environmental Governing Board of BIO, the Biotechnology Industry Organization.
Bill has led or had a key role in generating $500 million in strategic partnerships over the past 10 years, including two joint ventures and research collaborations with BASF, Bunge, BP, DuPont, Dow, Syngenta, Cargill, Bayer and DSM.
Baum's reasons: 'rare opportunity'
"Genomatica offers the rare opportunity with its integrated end-to-end technology platform to transform the chemical industry toward sustainability, while reducing costs, carbon emissions and our dependency on foreign oil ', said Baum. "Genomatica is well down the road in executing its business strategy in sustainable chemicals and developing its first commercial product, BDO. Genomatica's Bio-BDO production has been accomplished at scale much faster than other large-volume chemicals made by fermentation." Bill was keenly aware of the opportunity for Genomatica, as he has served on its board of directors for five years, and has been praised for his major contributions as an independent director. Bill will continue as Chairman of the board.
Genomatica has achieved rapid progress toward full commercialization, including a successful move to pilot production. The company's first commercial product, a "green" BDO, is made from renewable feedstocks rather than oil or natural gas. BDO, an intermediate chemical with a $3 billion market worldwide, is used to make spandex, automotive plastics, running shoes and more. Genomatica's platform technology is readily applied to a range of high-volume intermediate and basic chemicals.
Deep strength in target chemical markets
With Bill, Genomatica brings additional, deep and world-class experience to its partners. For its first commercial product, BDO, Genomatica's team includes Bill, with top results in marketing and selling BDO; Joe Kuterbach, who designed and built top-operating BDO plants for LyondellBasell; Warren Clark, a leading expert on plant processes and competitive economic analysis in the chemical industry, and a Genomatica board member formerly from Dow; and Mark Burk, CTO, the world's leading expert in the biology of producing BDO.
The company's top-notch investors, including TPG Biotech, Mohr Davidow Ventures, Draper Fisher Jurvetson and Alloy Ventures, noted the high value Bill brought as an independent director. "Bill adds fuel to the Genomatica fire," said Patrick McCroskey of TPG Biotech. "Genomatica has four key advantages: the right vision, focused on major chemicals with huge existing markets, the right strategy of working with and through partners for faster adoption and lower capital needs, the best technology in the world and a track record of delivering. Bill is a superb accelerator for creating win-win relationships with the leaders in the chemical industry."
Christophe Schilling, Genomatica CEO, summarized, "Bill knows us well and is passionate about the opportunity. He has built great relationships with numerous industry leaders. It's great to have him on the team full time."
About Genomatica
Genomatica is the emerging leader in sustainable chemicals, "greener" intermediate and basic chemicals made from current and next-generation renewable feedstocks rather than oil and gas. The company aims to transform the chemical industry through cost-advantaged, lower-impact products as direct replacements in a trillion-dollar global market.
The company's unique integrated bio-process engineering platform allows "in-silico" (computer-based) design and testing of highly-optimized organisms, manufacturing processes and economics. This results in much faster product development and time to commercial-scale manufacturing, and lower production costs. The platform has been proven in the record speed of pilot validation of Genomatica's first product, BDO, in partnerships with Dow, DSM, Unilever, NatureWorks/Cargill, Kyowa Hakko and Verenium, and in more than 30 peer-reviewed projects funded by the National Institutes of Health, National Science Foundation, Department of Energy, Department of Defense and Environmental Protection Agency. Genomatica has developed extensive intellectual property for clean, industrial biotechnology, including more than 120 issued and pending patents, and IP on the pathways and/or strains for 20 of the top intermediate and basic chemicals.
Genomatica has raised $40 million from Alloy Ventures, Draper Fisher Jurvetson, Mohr Davidow Ventures and TPG Biotech. See www.genomatica.com for more info.
For more information:
Emily Douglas
Genomatica
10520 Wateridge Circle
San Diego, CA 92121
emily.douglas@edelman.com
650-762-2945 phone
858-824-1772 fax
Featured Product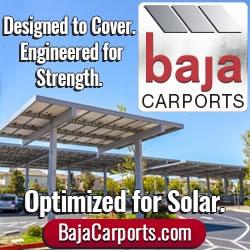 Baja Carports offers an extensive solar support system product line customized to customers' site specifications by in-house engineers, meeting their parking lot coverage, plus optimal PV production needs. Baja's Full Cantilever Tee is often paired with its Semi and Full Cantilever carports to meet live/loads up to 60psf and wind speeds to 160mph. All Baja products are pre-fabricated, bolted connections, pre-galvanized structural steel for fast on-site installation and project aesthetic requirements."