INTERNATIONAL AIRBORNE WIND ENERGY CONFERENCE 2010 AT STANFORD UNIVERSITY WILL ADVANCE REVOLUTIONARY RENEWABLE ENERGY TECHNOLOGY
Recent news of government investment in airborne wind energy companies from both sides of the Atlantic demonstrates heightened interest in this transformational energy technology and leading developers are hosting the Airborne Wind Energy Conference 2010 at Stanford University on September 28th and 29th to highlight the industry's advances and challenges.

The conference features presentations by industry research and development organizations from 13 countries, updates on public/private investment in renewable energy, improvements in resource analysis and discussions of key regulatory issues. Both California-based Makani Power, recipient of a U.S. Department of Energy Advanced Research Projects Agency - Energy (ARPA-E) grant and the Dutch company, Ampyx Power recently funded by the European Fund for Regional Development, are among companies presenting technology briefings at the conference.
JoeBen Bevirt, chair of the Airborne Wind Energy Consortium - the conference's chief sponsor, said that airborne wind energy systems will deliver clean, reliable energy that will be cost-competitive with the fossil fuels.
"By operating at high altitudes, airborne wind energy systems harness winds that are stronger and more consistent - that together with low capital cost and high energy output make airborne wind energy a very compelling renewable energy source," Bevirt said.
Bevirt said that the conference offers a rare opportunity for developers, researchers, investors, regulators and industry proponents to interact and devise strategies to address technology roadblocks and stimulate development.
"We're bringing together leading international industry developers working on airborne wind energy technologies with similar challenges," Bevirt said. "Add to that, a great mix of energy experts and researchers, regulatory agency representatives and potential funders and we've got the potential to fast-track deployment of this revolutionary technology."
Featured conference speakers include Saul Griffith, MacArthur Foundation "Genius" Grant recipient, energy expert and co-founder of Makani Power; Fort Felker, Director of the U.S. National Wind Technology Center at the National Renewable Energy Lab; Mark Hartney from the Department of Energy Advanced Research Projects Agency - Energy (ARPA-E); Ken Caldeira, Department of Global Ecology - Carnegie Institution of Washington; Ira Ehrenpreis, General Partner with Technology Partners, Elizabeth Lynn Ray, Director, Airspace & Aeronautical Information Management at the FAA and many other government and industry experts.
Conference sponsors include the Airborne Wind Energy Consortium, Ampyx Power, Joby Energy, Makani Power, Magenn Power, Sky WindPower, Raptor Radar Wind Profilers (Detect, Inc.) and NTS Energie und Transportsysteme GmbH and is supported by the California State University - Chico, Clean Technology and Sustainable Industries Organization, Greentechmedia, Cleantech Law Partners, and RECHARGE News.
For more details, or for conference and speaker updates, please visit www.awec2010.com. For complementary media registration contact: sher@aweconsortium.org.
Featured Product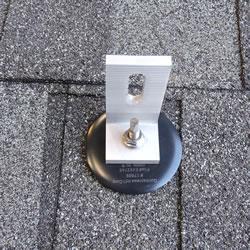 SolarRoofHook's Low Profile QuickBOLT with Microflashing™ is the industry's affordable, UL Certified Asphalt Shingle mounting system. The Microflashing™ is compressed by the collar on the bolt to create a water-tight seal. With an installation time of less than one minute, the Low Profile QuickBOLT allows installers to complete more jobs.