Free tour showcases 25 solar powered homes and businesses in Bexar County to share the benefits of solar energy
September 22, 2010 - Solar San Antonio is joining the non-profit American Solar Energy Society (ASES) and hundreds of solar-savvy installers and grassroots organizations throughout America to collectively showcase more than 5,000 solar-powered homes, schools and businesses - in San Antonio and across North America - for the 15th Annual National Solar Tour, the world's largest grassroots solar event.

The event - slated for Saturday, October 2nd - will give tour attendees an opportunity meet local solar installers one-on-one, get answers to their questions from homeowners, and learn what it means to go solar. Solar San Antonio is organizing open house tours of 25 homes and businesses in the greater San Antonio area - making 2010 the largest Solar Tour for our city. All sites will have one or more of the following solar installations: solar electric, solar water heating, solar attic fans, and solar skylights. This event is free and open to the public.
"In the wake of one of the largest man-made environmental mishaps in U.S. history, learning about clean, job-creating energy options that provide tax breaks, lower energy bills and cleaner communities for all of us is something San Antonio residents can do help encourage renewable energy," said Lanny Sinkin, Executive Director of Solar San Antonio. "Our local Solar Tour is bringing families and businesses real-life examples of how their neighbors are harnessing free energy from the sun to power their homes, and how they can do the same," he said.
Solar Tour Date: Saturday, October 2nd 10:00 a.m. - 3:00 p.m.
Solar Tour is FREE and a tour map is posted at www.solarsanantonio.org
On October 2nd, just show up at a participating home or business and begin your self-guided tour. Maps and brochures will be at all locations.
Sites will have the homeowner and solar installer available for questions and advice.
Sites will have additional exhibits and give-aways, including electric vehicles on display from Alamo City Electric Auto Association, reusable dry cleaning garment bags from Clothesline Cleaners, solar rebate information from CPS Energy, and more.
This year our local Solar Tour is partnering with Yelp.com - a website that connects real locals to great local businesses. For attendees who "check-in" to Solar Tour sites through Yelp's mobile phone app, Solar San Antonio will grant them a free 1 year individual membership. Users may check-in at Solar Tour locations on Yelp and leave Solar Tour event reviews, site reviews (for the commercial tour stops), comments, and talk with other "yelpers!"  San Antonio's local Yelp page may be viewed at:
www.yelp.com/san-antonio.
Commercial Solar Tour sites include: The Pearl Brewery, Red Robin Restaurant, Corbo Electric Headquarters, Church of Reconciliation, and a "SOLARbrella" on display at Naara Cafe.
For Solar Tour site photos please visit www.solarsanantonio.org/events/solar-tour/
2010 Solar Tour sponsors include CPS Energy, City of San Antonio, Bexar County, American Solar Energy Society, Clothesline Cleaners, San Antonio Current, and Yelp.
###
About Solar San Antonio
Solar San Antonio is a non-profit 501(c)(3) advocacy and resource center for renewable and sustainable energy applications. Utilizing community education and outreach, we strive to decrease energy costs and improve the quality of life in San Antonio and South Texas.  We actively encourage the widespread use of solar and other renewable and sustainable energy sources informing the community about benefits to the regional economy, environment and human health, as well as supporting public policies that advance this possibility.
Featured Product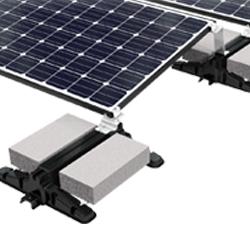 The Power Rail™ Commercial Mounting System is designed with the professional PV solar installer in mind. Both the XD/UD and LD/MD rails feature single tool assembly with the revolutionary patented RAD™ Lock-in-Place bolt for fast and secure module clamping. The high strength marine-grade aluminum rails include an integral wiring channel for securing cables and providing a professional finish.