"The bitter taste of poor quality lingers long after the sweetness of low price has disappeared."
SELECTING A QUALIFIED SOLAR INSTALLER

"The bitter taste of poor quality lingers long after the sweetness of low price has disappeared."
FOR IMMEDIATE RELEASE
WILMINGTON, NC, September 30, 2010 - Despite the recent economic downturn, the demand for solar energy in the US is growing at a significant rate, which is bringing into the market companies that in many cases are less than qualified. When considering solar, the customer should be aware of what to look for and what distinguishes qualified solar professionals from short term opportunists. Interested property owners should be aware that some solar installers may not be in compliance with the requirements mandated by the state and local authorities having jurisdiction, which not only creates a risk for the customer, but undermines the entire solar market as well.
How likely is a customer with a poorly installed solar system to recommend solar to others? How likely is a customer to enjoy the benefits of solar energy if he/she realizes the system was installed without the proper permits or inspections? How likely is a customer to benefit from a solar system during the next 25 years if the purchased system does not meet the predicted performance or forecasted output due to the low quality of the installation and/or materials used? As the saying goes, "The bitter taste of poor quality lingers long after the sweetness of low price has disappeared."
Deciding to install a solar system is not a decision to be taken lightly or in haste. The initial investment required for a solar installation can create uncertainty with some homeowners as to whether they should go with a professional solar installer or to 'do it themselves'. "Solar is an investment for the long term. Your solar installer should be someone you can rely on," said Andy Yechout in his article "How to Work With Your Solar Installer" published in Solar Today Fall/Winter 2009 edition. "Solar power is a major investment, it needs to be tailored to your house and your lifestyle," Yechout states. It is important to take into account the conditions particular to the site as they are different for every location on Earth. "Designing your system must be done precisely and by experienced professionals using the appropriate tools and technology starting with the correct measurement of solar access and ending with a detailed proposal listing all material, labor and including all required permits and inspections," adds John Donoghue, owner of Wilmington, NC based Cape Fear Solar Systems.
So, how do you select a qualified solar installer? The first things to look for are the required licenses. A qualified solar installer will typically hold a valid General Contractor's License in order to directly solicit and contract with a customer for solar installations, in other words, he/she must be licensed in the State of North Carolina. Customers should ask for a contractor's license number and verify that the contractor is in good standing in the state of NC (meaning there is no legal action against them) at the North Carolina Licensing Board for General Contractors' web site http://www.nclbgc.net/lic_fr.html.
If you are interested in a solar thermal installation, your solar contractor must be or use a Licensed Plumbing Contractor. Ask for a contractor's license number and, again, verify that the contractor is in good standing at the NC Licensing Board of Examiners of Plumbing Contractors http://www.nclicensing.org/OnlineReg.htm. The same would apply for a PV installation, make sure the solar installer is or uses a Licensed Electrical Contactor and verify that the contractor is in good standing at the NC Licensing Board of Examiners of Electrical Contractors web site http://lookup.ncbeec.org/.
In terms of solar industry qualifications, the gold standard within the solar industry is a NABCEP Certification. If your installer holds either a PV or a Solar Thermal NABCEP certification, he/she has been tested and demonstrated qualifications that ensure you will be getting a system equal or superior to all current best practice requirements. The North American Board of Certified Energy Practitioners maintains a state by state database of approved installers and all awarded certifications can be verified at http://www.nabcep.org/installer-locator. As NABCEP Certification is a highly recognized and valued mark of quality, just like the licenses for contractors, customers should always verify the status of NABCEP certification for a particular installer as abuse is becoming more and more of a problem.
A professional solar company will carry the required level of General Liability Insurance to protect the customer in the event of a problem occurring during the solar installation. Professional installers will also carry Workmen's Compensation Insurance. If an employee is injured on the site during the solar installation, this insurance automatically covers the employee in the event of an accident. If an installer does not carry this insurance, the customer may be potentially liable. Customers should ask to see copies of both of these documents. If a potential installer makes any excuses or gives any reasons why these documents are not available, it is strongly recommended that the customer looks elsewhere.
A good solar installer is usually a member of at least one of the recognized solar associations such is SEIA (Solar Energy Industries Association), ASES (American Energy Industries Society) or SEPA (Solar Electric Power Association). Being an active member in such an organization means that the installer takes solar seriously and stays up to date with the latest technology, practices and regulatory requirements. Professional installers are often active in local organizations as well, which demonstrates interest in the local business community.
The last important part in the process of selecting a qualified solar installer is to always check the references. A good installer will provide you with at least three references. Customers should call each one of them, even if they decide to go with another company, they will benefit from talking to someone who has had a similar system installed and it is always positive to hear about their experience.
Do your homework. Working with a qualified solar company will save a lot of unnecessary anguish and help avoid making a bad investment. "If you don't think you have all the information you need, ask for it," John Donoghue from Cape Fear Solar Systems remarks, "remember, YOU ARE THE CUSTOMER."
About Cape Fear Solar Systems, LLC
Cape Fear Solar Systems, LLC (CFSS) is fully licensed, insured and NABCEP certified alternative energy solutions provider. As a solar expert, CFSS offers a wide range of solar panels for solar water heating (DHW), photovoltaic (PV, solar electric) and solar pool heating for residential and commercial applications. With in-house design and engineering, CFSS provides complete solar installations including management of all necessary permits and approvals, assistance during the application process for State and Federal investment tax credits and consulting on community guidelines (HOA/POA/ARB/ACC). CFSS is an authorized dealer for SunPower solar panels, the world's most efficient solar modules, solar thermal systems from Apricus and Schüco, and Solar Service's pool heating systems.
Experience in solar installations and an authorized dealer for the most efficient solar brands makes CFSS the local leader in turnkey solar solutions. CFSS seeks to promote education about solar power and its benefits. To learn more about the company and its green services, please visit www.CapeFearSolarSystems.com.
# # #
Media Contact
Linda Hanykova
Phone 1-(910)-202-4028
E-mail: pr@CapeFearSolarSystems.com
Featured Product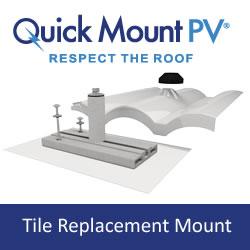 The Tile Replacement Mount provides a fast and easy way to install solar on tile roofs while protecting against water intrusion. Simply remove the tile and replace it with the Tile Replacement Mount. Works with all standard curved and flat tile roofs, and all standard rail-based racking systems. Flashed at both the deck and top levels, the mount is fully engineered to meet code requirements and industry best practices. The Tile Replacement Mount features Quick Mount PV's patented Elevated Water Seal technology for optimal waterproofing. Get a free sample and see for yourself!