Broadstreet Energy, leading solar distributor and installer, will be attending Solar International 2010 to meet with fellow leaders in the solar industry. SET-Solar, a leading solar power manufacturer, will be showcasing in booth #2153. Head reps from both companies will be available for interviews.
LOS ANGELES, CA - October 11, 2010 -- The collaboration between Broadstreet Energy and SET-Solar began over one year ago. Since then, Broadstreet has installed 1 megawatt of SET-Solar's modules. With this collaboration Broadstreet was able to produce one of the largest solar installations in the Los Angeles Area—Flamemaster Corporation. The 211 kW solar PV system, installed on the roof of the Flamemaster Corporation Headquarters, has been powered on and will generate approximately 331,760 kW of power per year. The system was installed by Omni Valley Construction, a Southern California-based electrical company.

SET-Solar Corporation, a solar energy solutions provider, will be showcasing at the Solar Power International Conference from October 12-14, 2010 at the Los Angeles Convention Center (Booth #2153). SET-Solar will exhibit its polysilicon material, silicon ingots and wafers, high-efficiency solar cells and high-performance solar modules. SET-Solar has three product lines of mono-crystalline and poly-crystalline photovoltaic modules, with 16 different models, all listed in the California Solar Initiative (CSI) directory and UL certified.
Solar Power International 2010 is the largest and most comprehensive B2B solar industry event in North America, and the premiere destination for global solar companies conducting business in the U.S. The event features hundreds of speakers, 1000+ exhibitors, and 27,000+ attendees from 90 countries.
Broadstreet Energy is currently installing several commercial and residential solar systems. The Broadstreet clientele range from industrial commercial business, churches and Hollywood celebrities. One notable residential installation is for the esteemed film producer, Elie Cohn (Brooklyn's Finest). Cohn's system was installed in Malibu, California and will produce approximately 18,520 kW of power per year. Broadstreet Energy will be attending Solar Power International 2010 to meet with fellow leaders in the solar industry.
About Broadstreet Energy
Broadstreet Energy is a Southern California based company. It is focused on the immediate need for renewable energy. Comprised of engineers, designers, electricians, lenders and customer support which create an all-in-one alternative energy company. Broadstreet makes solar affordable to the average customer, through financing collaborations.
About SET-Solar
SET-Solar Corporation is based in Mountain View, California. The Company markets and sells high-quality, mono-crystalline and poly-crystalline photovoltaic solar modules to integrators, installers and distributors in the U.S. SET-Solar is partnering with multiple key suppliers with vertically integrated manufacturing capability of producing ingots, wafers, solar cells and photovoltaic modules, including Solar Enertech Corp. (OTC: SOEN), a U.S.-based company producing advanced solar cell technology.
Forward-Looking Statements
Statements contained in this press release, which are not historical facts, are forward-looking statements as that term is defined in the Private Securities Litigation Reform Act of 1995. These forward-looking statements are based largely on current expectations and are subject to a number of known and unknown
risks, uncertainties and other factors beyond our control that could cause actual events and results to differ materially from these statements. These statements are not guarantees of future performance, and readers are cautioned not to place undue reliance on these forward-looking statements, which are relevant as of the date of the given press release and should not be relied upon as of any subsequent date. SET-Solar and Broadstreet undertake no obligation to update publicly any forward-looking statements.
Press Contact: Lisha Yakub
lishayakub@gmail.com
661-373-7183
Featured Product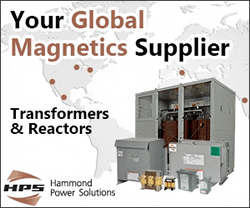 HPS is the largest manufacturer of dry-type transformers in North America. We engineer and manufacture a wide range of standard and custom transformers that are exported globally in electrical equipment and systems. We support solid industries such as oil and gas, mining, steel, waste and water treatment, and wind power generation. HPS leads the industry in these markets through its technical design strength, breadth of product, and manufacturing capabilities, making HPS a stronger company both fundamentally and financially.