Chaori Solar's impressive growth combined with SunPerfect Solar's industry experience bring high efficiency Monocrystalline and Polycrystalline modules to the US
Shanghai, October 12, 2010 - Chaori Solar, an industry leader in producing high quality solar modules, and Silicon Valley-based SunPerfect Solar, positioned to meet the specific demands of the US market, combine capabilities to ensure their quality Monocrystalline and Polycrystalline modules are accessible in the evolving US solar market.

As an established international company, Chaori Solar has forged important ties and taken part in recognized projects all over the world. In addition to these projects, and underlining their strong presence in Europe, Chaori Solar is a prestigious PV Cycle Association member, marking their commitment to recycling used modules and ensuring these pieces are disposed of in a responsible, renewable way, meeting strict ecological and economical criteria.
SunPerfect Solar, based in Silicon Valley, is well-positioned to offer strategic advice on both government policy and US market opportunities. Their local expertise and direct contact with solar clients makes this company the ideal associate for Chaori Solar.
Currently boasting an impressive 180% growth rate over the first and second quarter, Chaori Solar's 2010 shipment volumes have already reached 88.58 MW. Forecasted annual shipment volumes for 2010 are as high as 300 MW, with 10-15 MW as a direct result of the Chaori Solar - SunPerfect Solar joint venture.
"With the US prioritizing alternative energy, we are very focused on expanding our presence in this important market," shares Kailu Ni, CEO of Chaori Solar. "The Chaori Solar modules offer both quality and efficiency, a combination which will contribute to numerous solar initiatives. The joint venture with SunPerfect Solar will ensure these modules meet the specific demands dictated by the US market."
"American companies are driven by both productivity and effectiveness," indicates Willy Chow, CEO of SunPerfect Solar. "Our decision to participate in the Chaori Solar joint venture is based on our commitment to the US market. We are pleased with our role in the Chaori Solar projects and are confident our offering will resonate with US companies."
Chaori Solar - Sun Perfect Monocrystalline and Polycrystalline modules
Easy to assemble and convenient to install, the Chaori Solar Monocrystalline and Polycrystalline modules offer high conversion efficiency and abide by the most rigorous international standards including ISO and CE quality assurance.
For more information, please contact the press department below.
About SunPerfect Solar, Inc.
SunPerfect Solar, Inc. is a full-service turnkey solar manufacturing and engineering company based in Silicon Valley. With dual expertise in global manufacturing and local system engineering, clients and partners benefit from direct manufacturing and full local services. SunPerfect Solar also provides management and advisory services including front end consultation, site surveying and systems design and installation.
For more information, please visit www.sunperfect.com
About Shanghai Chaori Solar Energy Science & Technology Co., Ltd:
Founded in 2003, Shanghai Chaori Solar Energy Science & Technology Co, Ltd. is one of the first Chinese companies to concentrate on the photovoltaic industry. With an initial investment focused on the research and development of crystalline silicon cells, solar panels and photovoltaic systems, Chaori Solar has evolved as one of the most recognized names in producing quality solar cells and modules. With offices in China and Germany, the company is dedicated to the design, installation and operation of solar products in the photovoltaic value chain. With numerous certifications highlighting the company's commitment to producing high quality solar products including the IEC, UL and TUV, the company supplies their products to both established and emerging markets worldwide. Chaori Solar's annual capacity of solar cells reaches 225MW and 300MW for solar modules.
For more information please visit www.chaori-solar.com
Featured Product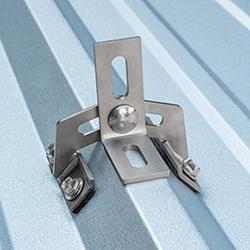 QuickBOLT Low Profile QuickBOLT with Microflashing™ is the industry's affordable, UL Certified Asphalt Shingle mounting system. The Microflashing™ is compressed by the collar on the bolt to create a water-tight seal. With an installation time of less than one minute, the Low Profile QuickBOLT allows installers to complete more jobs.