REHAU showcases its most recent developments for the renewable energy market at the 2010 International Ground Source Heat Pump Association (IGSHPA) Conference and Expo, October 27 to 29, 2010 in Denver, Colo. These include the RAUGEO™ and REHAU ECOAIR™ systems.
LEESBURG, Va., October 27, 2010 - REHAU announces its exhibition at the 2010 International Ground Source Heat Pump Association (IGSHPA) Conference and Expo, October 27 to 29, 2010 in Denver, Colo. The company will showcase its most recent developments for the renewable energy market, including the RAUGEO™ ground loop heat exchange and REHAU ECOAIR™ ground-air heat exchange systems. New products such as the PRO-BALANCE® XP polymer manifold, 360-ft. 1-in. double U-bend and RAUGEO Helix vertical ground loop will also be displayed. In addition, the company will highlight recent installations of both the RAUGEO and REHAU ECOAIR systems throughout North America.

"As energy prices continue to rise in tandem with even greater aim toward reduced carbon emissions, we have seen a steadily escalating interest in the renewable energy sourcing capabilities of our RAUGEO ground loop heat exchange system," said Scott Emery, business team manager, biogas and geothermal at REHAU. "Also, the market has become much more educated on the advantages of PEX-based systems, which have been incorporated as part of the IGSHPA standards guide for more than a year at this point. Attributes such as removing joints from the borehole field, facilitating individual circuit control, improving pipe mechanical properties, and in certain conditions, offering in excess of 20-percent total borehole length reduction have been quickly embraced, and we only expect this trend to continue."
Previous to their employment in U.S. geothermal systems, PEXa pipe and compression-sleeve fittings have been used for several decades in such applications as hydronic piping, radiant heating, snow and ice melting, water service and distribution, and residential fire protection. Also, the REHAU RAUGEO ground loop heat exchange system has been used in Europe for years, and is already being included in several North American projects. The RAUGEO heat exchange system is additionally applicable to the American Recovery and Reinvestment Act's (ARRA) uncapped 30-percent tax credit for residential geothermal heat pump installations, and uncapped 10-percent grant for commercial project owners.
"As an innovation-focused company, we are also constantly enhancing our products and systems to provide increased efficiency and reliability," said Emery. "Examples include our RAUGEO double U-bend design, now offered in a longer 360-ft. coil length in a 1-in. pipe size, and EVERLOC® compression-sleeve fittings, which require no flame, heat or solvent. These types of innovations offer quicker installation time on the job, which means greater opportunity for installers to capitalize on the aggressive demand for geothermal installation experts."
REHAU will exhibit its comprehensive line of renewable energy and sustainable building systems at IGSHPA 2010 booth No. 625. These include:
RAUGEO™ PEXa Pipe
RAUGEO™ PEXa pipe is manufactured using the high-pressure peroxide method of crosslinking polyethylene, and features a coextruded grey PE UV shield that protects the pipe against ultraviolet light for extended periods. The U-bend tips are then encased in a glass-reinforced resin, providing enhanced protection during handling and borehole insertion. All RAUGEO PEXa pipe meets or exceeds the requirements of ASTM F876, F877, CSA B137.5 and PPI TR-3, and is produced in a REHAU manufacturing facility with an ISO 9001 certified quality management system.
Single U-Bend: RAUGEO™ single U-bends are recognized by the IGSHPA "Design and Installation Standards" guide as an accepted piping system for vertical ground loop heat exchangers. They are specially designed for use in residential geothermal systems, where thermal energy requirements do not necessitate the use of a double U-bend. RAUGEO single U-bend pipe is available in 200-, 250- and 300-ft. (61-, 76- and 91-m) coil lengths.
Double U-Bend: The RAUGEO double U-bend increases borehole efficiency and lowers installation costs by reducing the required total borehole length. The unique double U-bend design increases borehole energy extraction by up to 20 percent, maximizing the energy output of each well. The RAUGEO U-bend is crafted from a single piece of pipe, eliminating the need for welds in the field, and increasing borehole pipe integrity. The elimination of welds translates to fewer potential leaks, reducing the risk of costly installer call-backs.
360-ft. Coil: REHAU offers the new 360-ft. (110-m) coil, which provides a 300-ft. (91-m) well depth with an additional 60 feet (18 meters) of pipe to feed directly back to a central manifold. This allows for complete elimination of all buried fittings in the field, saving both installation time and further reducing the risk of failure in the field.
PRO-BALANCE® XP Polymer Manifold
REHAU's new high-strength polymer PRO-BALANCE® XP manifold for geothermal applications offers many advantages over the typical reverse-return header. By placing all borehole connections in a single, centralized location, the need for in-field fittings is minimized, saving installation time and reducing potential for failures. An integrated balancing valve and flow meter enable flow control for each ground loop, and ball valves allow for complete ground loop isolation in the case of a leak. Optional pressure and temperature gauges facilitate easy system monitoring, allowing the user to keep flow conditions optimal. The new polymer manifold is offered with 4 to 20 outlets to accommodate both 1- and 1 1/4-in. diameter pipe.
EVERLOC® Fittings
No-weld EVERLOC® compression-sleeve fittings from REHAU offer many advantages over traditional HDPE fusion-weld fittings. EVERLOC installation takes minutes to learn and can be done in any kind of weather condition. No set-up time is required, and fittings may be immediately pressure-tested upon installation. When paired with the robust performance capacity inherent in a crosslinked polyethylene pipe, this translates to less time in the field and fewer call-backs, resulting in a lower-cost installation and enhanced job confidence. EVERLOC fittings meet or exceed the requirements of ASTM F2080, and are approved by IGSHPA for buried geothermal applications.
REHAU ECOAIR™ Ground-Air Heat Exchange System
The REHAU ECOAIR™ ground-air heat exchange system provides improved indoor air ventilation, enhanced energy efficiency and increased comfort in alignment with the fresh air requirements of today's tighter building envelopes. It capitalizes on the relatively consistent 45°F to 54°F (7°C to 12°C) ground temperatures found 5 to 7 feet (1.5 to 2 meters) below the earth's surface where, previous to entering the indoor ventilation system, fresh air is pre-warmed with ground heat in winter, and pre-cooled with cooler ground temperatures in summer. In addition to directly reducing the energy required to heat or cool incoming fresh air, the system provides a number of benefits to overall ventilation system optimization. These include lowering relative humidity during periods of cooling, and hindering condensation from freezing in heat recovery ventilators (HRV) during the heating season by raising the outside air temperature before it enters the HRV.
The REHAU ECOAIR ground-air heat exchange system is comprised of an air inlet, filtering and condensation management components, rigid PVC pipe and fittings. The smooth-walled pipe offers good heat conductivity to promote exceptional ground-to-air heat transfer, while also facilitating effective condensation discharge. It has a unique, silver particle-enabled inner layer that inhibits microbial growth, as tested and verified by SGS Institut Fresenius in Taunusstein, Germany to ASTM Standard E2180. The silver material is also registered with the EPA for use as an antimicrobial in HVAC applications.
Integrated PEXa Radiant Heating System Solutions
Providing one of today's most comfortable and efficient types of heat, the REHAU radiant heating system circulates heated water through RAUPEX® crosslinked polyethylene (PEXa) pipe installed beneath a floor's surface. It additionally includes the EVERLOC® compression-sleeve fitting system and pre-assembled PRO-BALANCE® manifolds. The system's consistent operating temperature range (90° to 140°F, or 32° to 60°C) is also ideally compatible with alternative energy sources such as geothermal heat exchange.
For more information, visit booth No. 625 at IGSHPA 2010 or contact: REHAU, 1501 Edwards Ferry Rd., N.E., Leesburg, Va., 20176. Phone: 1.800.247.9445. Fax: 1.800.627.3428. E-mail: rehau.mailbox@rehau.com. Web site: www.na.rehau.com/renewable.
REHAU delivers "Unlimited Polymer Solutions," and is the premium worldwide brand for polymer-based innovations and systems in construction, automotive and industry. The company generates continuous growth through its expertise and innovative capabilities in materials development, systems design and surface technology. Approximately 15,000 employees at more than 170 locations around the world ensure success of the independent, privately held company.
-# # #-
Featured Product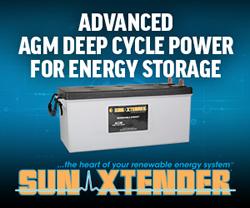 Sun Xtender® Deep Cycle AGM Batteries for renewable energy storage are manufactured in the USA by Concorde Battery Corporation and are built to the same demanding standards crucial to supporting the aircraft industry. To facilitate maximum conductivity & charge acceptance Sun Xtender® batteries are constructed with copper alloy corrosion free terminals & robust intercell connections. Endurance and optimal float life are achieved through plates thicker than the industry standard. Sun Xtender® Batteries' AGM maintenance free design is an ideal solution for off grid and grid tied systems.