An event to discuss and debate the new BS ISO 26000 will take place on 24 November in London
LONDON - 1 November, 2010 - Within the last few decades, social responsibility has become an organizational imperative. As global awareness heightens, businesses around the world are becoming increasingly mindful of the need for, and benefits of, socially responsible behaviour. The primary objective is to promote sustainable development, while assessing overall efficacy and long-term survival in the competitive, cut-throat world of business.

But what does this look like in application? How can a business shape its agenda to include, and benefit from, socially responsible principles? In answer to such questions, the first ever international standard to address this subject has been published today. Although several codes and proposals detailing specific ideas within the social responsibility scheme exist, BS ISO 26000 is a seminal-standard, offering detailed, user-friendly guidance on a widespread, international scale. For the first time, businesses across the globe can share the universal criteria of social responsibility and ethical business transactions.
BSI Director of Standards Mike Low explains: "This standard will enable businesses to bring together best practice in terms of workforce, customers, neighbours fair trade and the all important demands on our natural resources and our climate. Through the BSI standards process we have made an excellent input from UK stakeholders to ensure this is a practical and effective approach".
The benefits of BS ISO 26000 are numerous. Not only do socially responsible corporate policies boost the reputation of a business, they also secure long-term customer, client and employee loyalty. Similarly, the move towards increased efficiency allows one to sidestep the costs of wasted energy or waste removal fees. This also enables a company to cope with any new laws or restrictions that may be introduced in an increasingly green world. Finally, the overall competitiveness of a business is amplified, as investors are more willing to place their money in reputable and sustainable reserves.
The wide-scale implementation of BS ISO 26000 could also have enormous global repercussions. The universal comprehension of ethical business values, as provided by this standard, will enable organizations to communicate and operate effectively - internally and externally - via these mutually-shared values. Also, because many of the environmental and societal effects created by major corporations are realised overseas, a global awareness of social responsibility could drastically impact the way organizations work to reduce these effects.
BSI will be hosting an event on BS ISO 26000 which will take place on 24 November at CBI Conference Centre, in London. Committee members, key stakeholder groups and organizations who are leading the way in their social responsibility practices will come together to discuss and debate the new standard at this important event. Sessions will outline how BS ISO 26000 was developed and the important role it will play in improving social responsibility at an international level. Case studies will be presented by progressive organisations leading the way with their socially responsible behaviours.
If you are interested in the new standard on Social Responsibility and in attending the event organized by BSI in London, please contact Chiara Carella, PR Manager, BSI Group, at chiara.carella@bsigroup.com.
About BSI Group
BSI Group is a global independent business services organization which enables businesses, governments and other organizations to increase profits and market access, and to enhance reputation with its standards-based solutions and assurance services. From its origins as the world's first National Standards Body, BSI Group draws upon over 100 years' experience to partner with 66,000 organizations in 147 countries from its 50 offices. Today, through its independence, innovation and integrity, BSI continues to improve the lives of millions by raising standards worldwide. To learn more about BSI Group, please visit www.bsigroup.com
Contact:
Chiara Carella
PR Manager
T: +44 (0)20 8996 7248
M: +44 (0)77 6835 8730
F: +44 (0)20 8996 7277
E: chiara.carella@bsigroup.com
www.bsigroup.com
Featured Product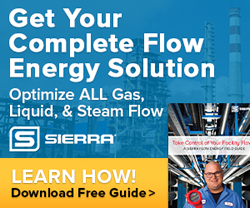 Download Flow Energy Guide - Written by Engineers For Engineers. Learn how to save on energy costs by optimizing your facility flows that impact costs like compressed air, natural gas, steam, and hot or chilled water.