SiliconPV 1st International Conference on Silicon Photovoltaics 17 April 2011 - 20 April 2011 in Freiburg, Germany.
SiliconPV, the 1st International Conference on Silicon Photovoltaics, will focus on the science and technology of crystalline silicon solar cells and modules. Since the progress of silicon photovoltaics is mainly technology-driven, SiliconPV will be an important forum for the international community. The special topic of the inaugural conference in 2011 will be "Advanced Cells and Modules", one of the main drivers in silicon photovoltaics research and development.
An international committee comprised of well-known scientists from companies and institutes will select the best abstracts to form a high-level scientific program. SiliconPV will feature inspiring invited talks, oral and poster presentations describing the most recent advances in the field, a platform for intensive discussions among experts and the adequate publication of the conference papers.
Featured Product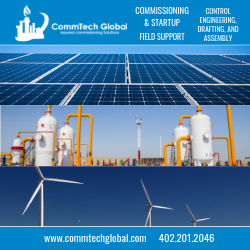 CommTech Global Solutions, LLC, provides professional and reliable commissioning services to customers in all realms of the energy industry. We blend our skills in engineering and technology with innovative business models, offering a complete range of services to assist you for a successful and in compliance operational startup. Consolidation of all our service domains gives our clients a comprehensive set of expertise and far-reaching experience on each project.