Material for Solar Panel Production
Morgan Technical Ceramics (MTC), a leading manufacturer of innovative ceramic, glass, precious metal, piezoelectric and dielectric materials, introduces materials that significantly improve the performance of ceramic rollers in furnaces used to make silicon wafers for solar panels. The performance improvements associated with the materials are expected to lower costs by driving down the processing costs for each wafer produced.

MTC's fused silica rollers provide a variety of benefits for thermal processing and chemical doping of silicon wafers and module glass. The rollers are inert, have high mechanical strength and good wear characteristics, leading to a long life in a challenging high temperature environment.
For high temperature applications in aggressive atmospheres, MTC has developed HalSolar alumina/silica rollers, which have improved chemical resistance, excellent thermal shock resistance and can be supplied with a smooth surface finish. Developed specifically for the solar market, the new rollers demonstrate MTC's commitment to providing application engineering support to this important emerging market segment.
For further information, please contact:
Katie DePorter, Tel: 617-367-0100 ext. 121
Email: kdeporter@gr2000.com
Lorraine Henry, Tel: +44 (0)1299 872217
Email: lorraine.henry@morganplc.com
About Morgan Technical Ceramics
Morgan Technical Ceramics (MTC) has a comprehensive range of ceramic materials, from which its products are manufactured. Supplying to a variety of demanding markets, MTC has established an enviable reputation for providing value-added solutions through world-class research and development, innovative design and, perhaps most important of all, application engineering.
From manufacturing locations in North America, Europe, Asia and Australia, Morgan Technical Ceramics, a Division of The Morgan Crucible Company plc, supplies an extensive range of products, including ceramic components, braze alloys, ceramic/metal assemblies and engineered coatings.
For more information on Morgan Technical Ceramics visit www.morgantechnicalceramics.com or contact one of our sales offices below:
Europe
Morgan Technical Ceramics, Bewdley Road, Stourport, Worcestershire, DY13 8QR.
Tel: +44 1299 872210 Fax: +44 1299 872218
Email: mtcuksales@morganplc.com
North America
Morgan Technical Ceramics, 26 Madison Road, Fairfield, NJ 07004, USA
Tel: +1 800 433 0638 Fax: +1 973 227 7135
Email: mtcussales@morganplc.com
Asia
Morgan Technical Ceramics, Dingshu Town, Yixing City 214221, Jiangsu Province, P.R. China
Tel: +86 21 59 90 61 39 Fax: +86 21 59 90 61 27
Email: mtccnsales@morganplc.com
Featured Product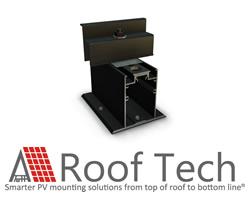 The most compact versatile rail-less PV mounting system under the sun. Instead of placing solar panels on top of long rails, simply attach E Mount AIR to rafters or the roof decking. Once panels are fastened to the roof, the system array is electrically bonded. The result is a visually seamless PV installation that stands the test of time. - Truly "One With The Roof". - PE stamped cert. letters available, UL 2703 Classified, ASTM 2140 fully waterproof. The one and only with integrated flexible flashing certified by the ICC! All the best quality. Only from Roof Tech