Largest Private Solar Installation in Worcester, Mass., Supplies 117,000 kilowatt-hours, a Year of Solar Power for K-12 School's Lighting, Heating and Cooling Systems
SAN RAMON, California - November 30, 2010—Canadian Solar Inc. (the "Company", "we" or "Canadian Solar") (NASDAQ: CSIQ), one of the world's largest solar companies, today announced a newly activated 106 kW roof-mount photovoltaic (PV) solar electric system on the McDonough Center at the Bancroft School in Worcester, Mass. This installation, completed and activated prior to start of the 2010 school year, is currently the largest private solar electric system in Worcester.

The installation incorporates 462 Canadian Solar CS6P-230P polycrystalline modules that will produce approximately 117,000 kilowatt-hours annually, reducing carbon emissions by 88 tons per year, or the equivalent that 438 trees would offset annually. The school, which enrolls 541 students and employs 124 faculty and staff, expects the PV system to offset its electrical needs by producing enough power to meet approximately 25 percent of the McDonough Center's annual energy demands.
"This installation not only teaches our students about the importance of renewable energy but also demonstrates Bancroft School's commitment to environmental awareness and positive energy choices for our community," said Scott R. Reisinger, head of Bancroft School. "We're looking forward to financial savings in energy costs while contributing to environmental sustainability for years to come."
"We're happy to see our best-of-breed panels being used in settings where they can impact future generations' understanding of the power of renewable energy," said Alan King, vice president of U.S. Sales for Canadian Solar, USA. "The Bancroft School installation represents significant investment in a state with commendably aggressive solar policies."
The solar installation was designed and financed by Future Solar Systems and installed by Professional Electric. The Canadian Solar CS6P-230P polycrystalline modules used are among the top-ranked solar modules in PV USA (PTC) ratings--ratings that are quickly becoming universally accepted standards for measuring real-world module energy production and performance.
About Canadian Solar Inc. (NASDAQ: CSIQ)
Canadian Solar Inc. is one of the world's largest solar companies. As a leading vertically integrated provider of ingot, wafer, solar cell, solar module and other solar applications, Canadian Solar designs, manufactures and delivers solar products and solar system solutions for on-grid and off-grid use to customers worldwide. With operations in North America, Europe and Asia, Canadian Solar provides premium quality, cost-effective and environmentally-friendly solar solutions to support global, sustainable development. For more information, visit www.canadiansolar.com.
U.S. offices: 12657 Alcosta Blvd, Suite 140, San Ramon, CA 94583
Telephone: 1-925-866-2700
Fax: 1-925-866-2704
Contact Information
For Canadian Solar
Investor Relations Media Relations
Alex Taylor, IR Director Jill Hansen
Tel: +1-519-954-2057 Tel: +1-925-977-5956
Fax: +1-519-954-2597 jill.hansen@canadiansolar.com
ir@canadiansolar.com
# # #
Safe Harbor/Forward-Looking Statements:
Certain statements in this press release including statements regarding our expected revenue, expected future shipment volumes, gross margins, manufacturing capacities, processing costs, and cell conversion efficiencies, are forward-looking statements that involve a number of risks and uncertainties that could cause actual results to differ materially. These statements are made under the "Safe Harbor" provisions of the U.S. Private Securities Litigation Reform Act of 1995. In some cases, you can identify forward-looking statements by such terms as "believes," "expects," "anticipates," "intends," "estimates," the negative of these terms, or other comparable terminology. Factors that could cause actual results to differ include the risks regarding the previously disclosed SEC and internal investigations as well as general business and economic conditions and the state of the solar industry; governmental support for the deployment of solar power; the availability of high-purity silicon; demand for end-use products by consumers and inventory levels of such products in the supply chain; changes in demand from significant customers; changes in demand from major markets such as Germany; changes in customer order patterns; changes in product mix; capacity utilization; level of competition; pricing pressure and declines in average selling prices; delays in new product introduction; continued success in technological innovations and delivery of products with the features customers demand; shortage in supply of materials or capacity requirements; availability of financing; exchange rate fluctuations; litigation and other risks as described in the Company's SEC filings, including its annual report on Form 20-F filed on August 19, 2010. Although the Company believes that the expectations reflected in the forward looking statements are reasonable, it cannot guarantee future results, level of activity, performance or achievements. You should not place undue reliance on these forward-looking statements. All information provided in this press release is as of today's date, unless otherwise stated, and Canadian Solar undertakes no duty to update such information, except as required under applicable law.
Featured Product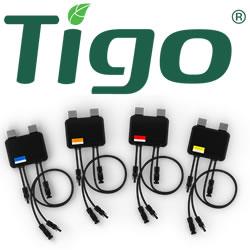 Tigo will announce the new product launch of the patented UHD-Core TS4-A (Advanced Retrofit/Add-on) Platform at SPI 2019. The new TS4-A-M (Monitoring) & TS4-A-S (Safety) units have improved lightweight hardware and lower labor costs to address a range of functions and budgets. The TS4-A-M allows module-level monitoring via Tigo's SMART Website & App. The TS4-A-S is UL-certified as a rapid shutdown solution for residential and C&I PV system. Both units join the Tigo's multivendor solution that works with almost any inverter and smart module in the global PV market. Contact sales@tigoenergy.com for pricing, shipping, and availability in Q4'19.