World's Leading Supplier of Distributed Wind Generators Welcomes Executive Team Member
FLAGSTAFF, Ariz. - December 7, 2010 - Southwest Windpower, the world's leading supplier of distributed wind generators, announced today that it has hired Scott W. Brown as president and chief operating officer, US Operations. In this role, Brown will lead product development, R&D, and manufacturing on a worldwide basis, as well as sales and distribution in North and South America.

Brown joins Southwest Windpower with a wealth of corporate knowledge and management expertise that will assist him in positioning the company as a global leader and prepare it for breakthrough revenue and profit growth.
"I'm excited about the opportunity at Southwest Windpower," said Brown. "We lead a large and developing market with more installs than all other competitors combined. Couple this with our proprietary technology and experienced team of industry professionals, and I feel this business is poised to do great things."
"Scott has a proven track record of outstanding leadership and corporate success that he can leverage to elevate the company to new heights," said Dixon Thayer, chief executive officer of Southwest Windpower. "We look forward to Scott utilizing his expertise to establish effective programs that will lead to internal growth and external expansion."
With more than 25 years of experience, Brown has designed and implemented several transformative restructuring strategies for both large public and privately-held companies. He has extensive international experience having lived and worked in Germany and the UK for seven years.
"On behalf of the Board of Directors, I would like to welcome Scott to the executive team. We look forward to watching the company evolve under his guidance and direction," said Alexander Ellis, Southwest Windpower board member and general partner of Rockport Capital Partners.
Brown holds a bachelor's of science degree in business administration from the University of Connecticut and an MBA from the University of Chicago.
About Southwest Windpower
Southwest Windpower is the world's leading supplier of distributed wind generators. With history lasting more than two decades, the company is a global leader and pioneer in the design, manufacturing and distribution of small wind systems (400-3000 watts). Southwest Windpower has built and shipped more than 160,000 wind turbines to more than 120 countries worldwide and has sales representation in over 88 countries. Headquartered in Flagstaff Ariz., the company also has operations in Cologne, Germany and a joint venture in Ningbo, China. Applications for Southwest Windpower systems include residential homes, commercial properties, micro grids, remote cabins, telecom transmitters, offshore platforms, water pumping and sailboats. Southwest Windpower is the manufacturer of such well-known products including Skystream, Whisper and Air lines of distributed wind systems.
For more information on Southwest Windpower and its products, visit www.windenergy.com.
CONTACT:
Miriam Robbins
Southwest Windpower
928-779-9463
miriam@windenergy.com
Meredith Schneider
Howard, Merrell & Partners
919-844-2742
mschneider@merrellgroup.com
Featured Product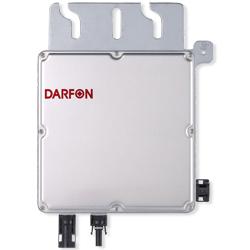 The Darfon G320 is the microinverter solution for today's high-power solar modules. The G320 handles 60- and 72-cell modules up to 350W DC and outputs up to 300W AC. The G320's 3-phase configuration accommodates the electrical distribution systems of most commercial buildings and to reduce, if not eliminate, the need for expensive transformers. The G320 comes in four voltage/phase configurations, so it can be installed in residential, commercial or utility applications.