AWS Truepower today announced a major release of its industry-leading windNavigator® application. windNavigator 3.0 moves beyond wind project siting and resource assessment with the addition of two new modules designed to support wind monitoring campaigns and plant operations.
AWS Truepower, LLC, an international leader in renewable energy consulting and information services, today announced a major release of its industry-leading windNavigator® application. windNavigator 3.0 moves beyond wind project siting and resource assessment with the addition of two new modules designed to support wind monitoring campaigns and plant operations.

Campaign Management, a free value-add service available to all of AWS Truepower's wind resource assessment clients, puts tower data at analysts' fingertips. Through the secure windNavigator platform, service subscribers can download raw and quality-controlled meteorological data, view meteorological mast statistics, site commissioning information and receive monthly summary reports for their towers.
"The decision to deploy Campaign Management was largely driven by our desire to improve customer service," said David DeLuca, Director of Wind Developer Services at AWS Truepower. "Many of our customers want to be able to keep an eye on their towers directly so they can get the latest information at any time. We've made it easy for them to do that."
"In addition to providing easy access to tower data, summary statistics, and other information, data quality was of the utmost importance throughout our development process," added DeLuca. "Clients are assured of getting the quality they have come to expect from AWS Truepower - at a reduced cost and with added convenience."
For wind projects already in operation, Asset Management provides owners, operators, investors and asset managers with information enabling them to better understand and track wind plant performance.
"Understanding the impact on plant output of wind resource variations (like the low wind speeds we saw in much of the country last fall and winter) provides much needed insight for plant owners and investors," said Michael Brower, Chief Technical Officer at AWS Truepower. "The response to Asset Management was overwhelmingly positive with the early test market. In fact, we were pleased to discover that our pilot customers found the application useful not only for assessing and tracking their own assets, but also other wind generation assets within the same region," added Brower.
Asset Management subscribers can easily build out their project portfolio by using AWS Truepower's comprehensive U.S. wind plant database. For each project in the portfolio, the subscriber receives a monthly report of the estimated wind speed and production deviation (or anomaly) from long-term expectations. In addition, the subscriber receives a long-term hourly wind resource dataset commonly known in the industry as a virtual met mast or VMM. The Asset Management version of this dataset, VMM+E, includes the estimated plant energy output for every hour. The data set is updated on a monthly basis allowing analysts to compare on-site plant data and wind measurements to AWS Truepower's estimates.
"Now Asset Management subscribers can answer the question directly: if my plant output was low last month, was that because of the wind or some other reason?" remarks Brower. "This type of information may be the first clue to a plant underperformance problem."
AWS Truepower arms professional wind organizations—from project developers to owners and operators—with accurate, science-based intelligence to drive smarter project decisions. windNavigator is AWS Truepower's primary platform for delivering its information-rich products. Initially released in 2008 as an efficient, user-friendly prospecting and initial wind resource assessment tool, windNavigator quickly became the go-to resource for energy developers and government planners looking to locate and confirm attractive wind development sites.
windNavigator 3.0, the latest release, includes the following services:
• Existing: Site Assessment featuring online access to mean annual wind resource maps and other resource data including wind roses and monthly speed distributions. Subscribers also enjoy discounts on resource assessment reports (Site Surveyor, Site Analyst and Site Analyst Pro) and wind data (TY-VMM, LT-VMM, WRG/PDG, and GIS data layers).
• New: Campaign Management featuring online access to essential meteorological campaign information including mast statistics (mean speed, data recovery, prevailing wind direction, shear, turbulence intensity and temperature), sensor status and plots (wind rose, hourly average wind speed, daily average wind speed, and wind speed distribution (per sensor)), raw and quality-controlled data, and monthly reports.
• New: Asset Management featuring online access to wind and plant performance information including wind anomaly maps and graphs, energy anomaly graphs, monthly updates to the VMM+E, monthly reports, and a comprehensive wind project database for the United States for easy portfolio setup and competitive analysis.
• New: Wind speed data for Alaska and Hawaii for all windNavigator Site Assessment customers with an active subscription to the United States.
"A passion for innovation and meeting evolving customer needs are the primary drivers for product development at AWS Truepower," said Bruce Bailey, President and Chief Executive Officer at AWS Truepower. "Our mission to use the best science and technology to produce results that perform is reflected in Campaign Management and Asset Management as well as every new product and service we develop. Looking to the future, our firm has made significant investments in research and development to support the growing needs of the operational market. From improved short-term forecasting to advanced plant performance assessment tools like SHARP, AWS Truepower will continue to lead the industry in developing high-quality products and services that deliver results," concluded Bailey.
For more information on windNavigator, please visit www.windnavigator.com.
Pricing and Availability
windNavigator 3.0 is available immediately. Pricing varies by subscription. For more information, please contact AWS Truepower at info@awstruepower.com or +1-877-899-3463.
About AWS Truepower, LLC
AWS Truepower has been an international leader in renewable energy consulting and information services for over 25 years. AWS Truepower's suite of integrated services and innovative products support the full project lifecycle from resource and energy assessment, independent engineering, and due diligence, to performance assessment and power production forecasting. AWS Truepower's professional staff possesses in-depth knowledge and experience in all phases of project development, which ensures a consistent, integrated solution. AWS Truepower is online at www.awstruepower.com.
###
Featured Product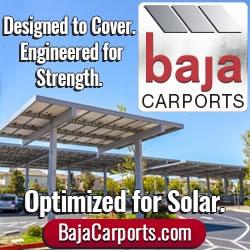 Baja Carports offers an extensive solar support system product line customized to customers' site specifications by in-house engineers, meeting their parking lot coverage, plus optimal PV production needs. Baja's Full Cantilever Tee is often paired with its Semi and Full Cantilever carports to meet live/loads up to 60psf and wind speeds to 160mph. All Baja products are pre-fabricated, bolted connections, pre-galvanized structural steel for fast on-site installation and project aesthetic requirements."