Corvus Energy selects Jastram Technologies as its exclusive Canadian partner to distribute Corvus Energy's lithium-ion batteries to Canada's Commercial, Recreational and Military Marine Sectors.
Richmond, B.C. — Corvus Energy, producers of the world's most powerful industrial lithium batteries, selected Jastram Technologies Ltd., an internationally renowned distribution company, as its exclusive sales and marketing partner and has charged it with handling all marine applications that are built or originate in Canada, including recreational, commercial, governmental and military segments.

Jastram has been a highly respected distributor of quality marine products for more than 27 years. "Jastram's reputation as a company that represents products engineered for life at sea, make them the ideal partner for Corvus Energy's batteries," said Brent Perry, CEO and president of Corvus Energy. "We've long respected Jastram's level of expertise and technical knowledge and we expect that our partnership will allow both our companies to prosper from the newest and most powerful battery technology available today."
Corvus batteries are recyclable, powerful enough to replace diesel in heavy machinery, and are priced at a level that will allow a return of investment in a reasonable length of time. Each battery has at least four times the power and energy storage of a lead-acid battery in a quarter the volume and weight.
"We're proud to support a local Canadian company that's on the leading edge of green technology," said Shawn Burchett, Jastram's operations manager. "We're honored to be Corvus Energy's exclusive Canadian partner."
About Corvus Energy:
Corvus Energy is based in Richmond, B.C. and is a 100 percent carbon neutral company that provides industrial-sized power in a compact, modular lithium-ion battery system to the commercial marine industry, transportation industry, ports machinery, remote community, off grid and grid energy markets. Its revolutionary battery packs have the capacity to output sustained power comparable to diesel engines in hybrid and full-electric vessels and vehicles. For more information on Corvus Energy, please visit corvus-energy.com or call (604) 227-2080.
Media Contacts:
Grant Brown, marketing director for Corvus Energy
Tel: (604) 227-0283; e-mail: gbrown@corvus-energy.com
Shawn Burchett, Operations Manager for Jastram Technologies Ltd.
Tel: (604) 988-1111; email: SBurchett@jastram.com
Featured Product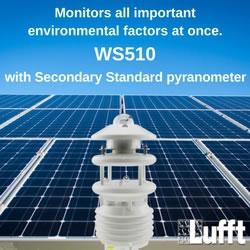 First and only Smart Weather Sensor with integrated Kipp & Zonen CMP10 Pyranometer (secondary standard). From the WS product family of professional intelligent measurement transducers with digital interface for environmental applications. Integrated design with ventilated radiation protection for measuring: Air temperature, relative humidity, air pressure, wind direction, wind speed and radiation. One external temperature or rain sensor is connectable.