As Solar Energy International welcomes 2011, we would like to send Happy New Year greetings to our alumni and supporters.
In 2010, Solar Energy International enjoyed a banner year providing hands-on workshops and online courses in renewable energy training, surpassing the 16,000 alumni mark. We look forward to furthering our mission and serving more participants in 2011. The new year offers an opportunity to celebrate Solar Energy International's 20th anniversary and continue to provide comprehensive training in renewable energy technologies.

To kick off the new year, SEI offers these online solar training courses, starting Jan. 10, 2011. Many of these online courses are almost full so register soon!
* NEW! - PV206: Solar Business and Technical Sales
Geared to people wanting to start their own business, professionals working in the solar industry or hoping to work in solar sales, with a strong focus on business principals and topics directly aligned with the NABCEP PV Technical Sales Task Analysis and NABCEP's new Technical Sales Certification. This new solar training online course also uses SEI's new mobile learning technology for on-the-go learning.
http://www.solarenergy.org/workshop/solar-training-solar-business-and-technical-sales-online
* NEW! - PV203: Battery-Based Design
Apply the National Electrical Code (NEC) to battery-based systems to ensure safe, code-compliant design and installation.
http://www.solarenergy.org/workshop/solar-training-battery-based-design-online
* PV101: Solar Electric Design and Installation (Grid-Direct) - Online
Establish fundamental concepts required for safe, code-compliant design and installation of photovoltaic (PV) systems, with a focus on residential-sized grid-direct solar electric systems.
http://www.solarenergy.org/workshop/solar-training-solar-electric-design-and-installation-grid-direct-online
* PV202: Grid-Direct Design and the NEC
Apply the National Electrical Code (NEC) to residential and commercial grid-direct solar electric systems to ensure safe, code-compliant design and installation.
http://www.solarenergy.org/workshop/solar-training-grid-direct-design-and-nec-online
SEI Launches Free Online Intro Course
Introduction to Renewable Energy is a free online course for those who wish to learn the basics of renewable energy - including where it is found, how we can harvest it for use in our homes and how it can help ease pressures on the environment. You will not become an expert through this course, but you will get to know renewable energy in its many forms - helping you to decide whether solar training, wind or other renewable technologies are right for you.
If you have never taken an online course from Solar Energy International, this is a great preview into our online course structure and learning experience. We hope this will lower any inhibitions you may have to taking an online course by giving you this free opportunity to experience the SEI Online Campus.
This free 10-lesson course includes lessons on conservation and efficiency, sustainable building, solar thermal, solar electricity, wind power, micro-hydro power, renewable energy for the developing world, and the economics of renewable energy.
http://www.solarenergy.org/free-online-intro-renewable-energy-course
Online Alumni & Career Center
The SEI Online Alumni and Career Center is a resource that provides networking connections for current SEI students and alumni as well as opportunities to explore the career possibilities and professional paths within the renewable energy/green industry.
This online resource is open to everyone for exploring links and posted materials to help you in your career exploration. The networking tools and premium services are available only to our alumni and registered students. Let us know how we can help you on your journey!
Available resources:
* Resume Posting Forum
* Job Posting Forum and Job Listing Directory
* Alumni Map and Networking Forum
* Video Interviews with SEI Alumni
* Workforce Funding Resources
* Recorded Archived Webinars
Visit the Online Alumni and Career Center at http://www.solarenergytraining.org
Featured Product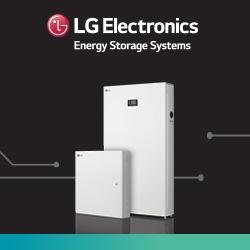 LG Solar is transforming today's solar landscape, offering precision-manufactured and high-efficiency solar panels for homeowners who demand high performance, reliability and consistently strong energy yield from a brand they can trust. LG modules feature outstanding durability, appealing aesthetics and high-efficiency technology, backed by a limited 25-year product, performance and labor (up to $450) warranty. Homeowners who purchase LG Solar modules know they're protected by a diversified global brand.