Sustainable Energy Technologies Ltd and Alternate Power International Ltd jointly announce today that API will bundle SUNERGY inverters with its "Made in Ontario" SUN-SPY™ SST-10 solar tracker, suitable for both the micro-FIT and FIT markets.
Toronto, ON - January 13, 2011 - Sustainable Energy Technologies Ltd (TSX V:"STG") ("Sustainable Energy" or the "Company") Canada's solar inverter company, and Alternate Power International Ltd ("API") a leading Ontario manufacturer of solar tracker systems, jointly announce today that API will bundle SUNERGY inverters with its "Made in Ontario" SUN-SPY™ SST-10 solar tracker, suitable for both the micro-FIT and FIT markets.

Alternate Power International Ltd is amongst Ontario's oldest solar companies, with over 14 years experience in the Ontario solar market. In addition to the SUN-SPY solar tracker, API manufactures innovative rooftop and ground based racking systems built for the Canadian climate in its facility south of Barrie, Ontario. According to API, demand for the SUN-SPY single axis tracker is growing rapidly due to its competitive price point and the rugged design of the SUN-SPY ™ tracker.
Sustainable Energy has committed to a production allocation of up to 5MW of SUNERGYTM inverters to meet API's demand forecast for 2011. The Company will also provide technical support to API on tracker performance optimization.
"API is very pleased to start its relationship with Sustainable Energy Technologies. The quality and reliability of the SUNERGYTM Inverter line is what attracted API to this solution. We are committed to bringing the best products to our clients and SUNERGYTM's unique ability to operate outdoors in the Canadian cold weather environment will enable API's Sun-Spy Tracker to be installed throughout the Province. The SUN-SPY Tracker's rugged design gives clients the confidence that the product will last for 20 years and sales are increasing rapidly. Sustainable Energy's commitment to meet our production requirements means our clients will get their products on time." - Stephen Culbert, Chief Executive Officer of Alternate Power International Ltd.
First installations of the SUN-SPY™ SST-10 trackers have been completed at multiple sites across the Province of Ontario. In addition to the tracker market, API is also developing a portfolio of commercial rooftop projects integrating the SUNERGYTM inverter. The first installation, a 30kW project, was completed in Barrie, Ontario at a long term care facility and was the first FIT project commissioned in Barrie.
"We are excited about our relationship with Alternate Power. Every indication is that their SUN-SPY product has the ability to capture a sizable share of the micro-FIT and FIT solar tracker market. The tracker market has become increasingly popular with Ontario land owners for the much higher yields obtained by following the sun through the day.
We expect this application to be a strong market for the SUNERGY products in 2011 especially for smaller micro-FIT projects in agricultural settings where the projects are more easily financed and maintained by the project owners" said Michael Carten, Chief Executive Officer of Sustainable Energy.
Rated for temperatures down to minus 40 degrees Celsius, the high-yield low-voltage, field serviceable, SUNERGYTM inverter is the only tracker-mounted solution in Ontario. Located at the base of each tracker, the SUNERGYTM inverters increase project investment returns with more precise maximum power point tracking, better system availability and an overall lower installed cost than competitive solutions.
About Alternate Power International:
Based out of Innisfil, Ontario, API (www.altpowerinternational.com) (www.sunspytracker.com) is a leading provider of turnkey solar tracking, ground mount, and rooftop systems, offering an extensive line of "Made in Ontario" solutions to service all levels of the market. API maintains a modern manufacturing, sales, marketing, and support facility. Their corporate goal is to implement environmentally responsible and economically viable methods of energy production that strengthen the host community.
The SUN-SPY™ SST-10 Tracking system is the highest quality, lowest installed cost single-axis tracker available in Ontario, which also meets the domestic content requirements. The single-axis tracker system is designed to increase the energy yield of solar systems. It is equipped with high quality PV modules and inverters to provide a tracking system that is cost-effective and profitable. Each unit is capable of accommodating up to 52 solar modules (>12kW DC) with a design life of 20 years, maximizing return on investment.
About Sustainable Energy:
Sustainable Energy Technologies Ltd. (www.sustainableenergy.com) is Canada's solar inverter company. The Company's patented inverter technologies are a breakthrough in power inverter design and capabilities for all forms of distributed generation and smart grid applications.
The SUNERGYTM inverter is the industry's only grid-interactive solar inverter which enables a "parallel" solar PV system architecture in higher power ratings at a cost and serviceability factor that is comparable to conventional inverters in the market. The benefits of parallel solar are: (i) 5% - 25% higher total system power output; (ii) a better fill factor enabling better coverage of available space; (iii) simplified system design and installation; and (iv) the safety of extra low operating voltages which ensures the safety of building maintenance personnel, first responders, and tradesmen who may accidentally come into contact with system wiring.
Sustainable Energy's technologies are the subject of multiple patents issued by and pending with the Canadian and US Patent Offices.
Featured Product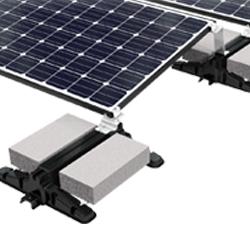 Preformed Line Products introduces the POWER MAX Ballasted Roof Mounting System. The POWER MAX solar mounting system is engineered to maximize energy output on commercial flat roofs. Developed with the professional installer in mind, this system offers adjustable inter-row spacing in the field of up to 11 inches. It features 50% fewer components and a simplified design resulting in faster assembly rates and labor savings on every project. Available in a flush mount, 5Ëš or 10Ëš tilt or higher density dual tilt design, the POWER MAX base arrives stacked on pallets providing easier transport to the roof. Engineered as a fully ballasted, non-penetrating system, it accepts standard concrete blocks and is qualified by wind tunnel testing.