Top Companies are realizing huge savings by using hydrogen fuel cells. Beyond featuring these companies, The FUEL CELL & HYDROGEN ENERGY CONFERENCE 2011 is offering the opportunity to get to know this technology first hand and learn how your business can save.
For a growing number of companies, fuel cell technology cuts costs and increasing productivity. Scroll down to see how your industry is utilizing this technology.

Next, register for Fuel Cell and Hydrogen Energy 2011 to meet the people who have discovered these benefits and see the technologies that will change the way your industry does business.
Distribution Centers
Whole Foods Market
Saving about 3750 man hours per year per fuel cell-powered forklift.
Bridgestone-Firestone
Their fuel cell-powered fleet of fork lifts run two to three times as long and take one-fourth of the time to refuel.
More industry successes>>>
Grocery and Retail
Sysco
Saving about $24,000 each quarter on labor costs compared to changing out lead-acid batteries.
Walmart
Saving $2.0 million with stationary and fuel cell-powered forklift technology
More industry successes>>
Agricultural Processing
Sierra Nevada
Stationary fuel cells save $400,000 per year in electricity costs and have a return on investment of 6 years.
Gills Onions
Annual savings of $700,000 in electricity costs and $450,000 on labor, diesel and insurance. Their entire project cost was $10.8 million, with an estimated return of investment in less than 6 years.
More industry successes>>
Factories
Nissan North America
60 fuel cell-powered tugs at an assembly plant save them almost 35 hours a day.
More industry successes>>>
Headquarters and Data Centers
Ebay
The fuel cells they installed led to an energy cost savings of more than $100,000 during the first seven months, compared to the cost of grid power.
Chevron
The fuel cell at their San Ramon headquarters reduces the annual energy costs by $56,000.
More industry successes>>>
Hospitality
Starwood Hotels
Their Westin San Francisco property produces 100% of the hotel's electricity requirements, and their Sheraton San Diego property estimates it books 1,000 rooms a year due to interest in their fuel cell technology.
Hilton Hotels
Hilton's New York property, which is the largest hotel in Manhattan, invested in a stationary fuel cell that delivers 1.75 million kW of electricity per year, and reduces their annual carbon emissions by 780 tons.
More industry successes>>
Telecommunications
Sprint Nextel
They rely on over 250 installed hydrogen fuel cells to provide back-up power to cell sites across the US.
Utilities
LA Department of Water and Power
LADWP fuel cells at their company headquarters, substation and wastewater treatment facility operate at 45 to 47 percent capacity compared to 33 percent for conventional electric power plants.
Southern California Gas
Southern California Gas invested $1 million in fuel cells, which cuts utility bills for some customers up to 30%.
More Industry successes>>>
With over 80 exhibitors, representatives from over 100 different companies and four days of educational programming, registering will provide the knowledge and connections you need to start benefit from this technology.
Featured Product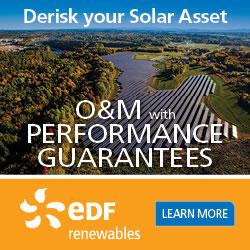 EDF Renewables offers the same innovative solutions that maximize the performance of our own 5.2 GW of installed projects. Because we're not an equipment manufacturer, our recommendations are transparent and data-driven. We cover the entire project lifecycle: from pre-commissioning support, through warranty and post warranty operation, to late stage and decommissioning.