Endurance Wind Power's head office and production facility is now powered by clean, renewable energy.
Endurance Stands Behind Commitment to Renewable Energy

Vancouver, BC September 30th 2010 - Endurance Wind Power's corporate office and manufacturing plant are now 100% powered by renewable energy or essentially 'bullfrogpowered'®
Bullfrog Power is Canada's 100% green electricity provider, offering residences and businesses the option to be powered by 100% low-impact, clean, renewable energy. Bullfrog works with organizations such as the David Suzuki Foundation, the Canadian Wind Energy Association, and the World Wildlife Fund in their effort to educate the public about the health benefits to clean, renewable energy. Wal-Mart, TD Financial Group, CIBC, and the Home Depot are just a few examples of the hundreds of Canadian companies that are bullfrogpowered® and have taken the lead in becoming better corporate citizens. Together, with its clients and organization partnerships, Bullfrog Power is spurring the growth and development of renewable energy as an alternate energy source.
"Part of being a responsible business includes being socio-environmentally conscious and minimizing the carbon footprint that affects the health of others, the planet, and our future generations. Similarly, our customers demonstrate the same commitment to a cleaner and healthier world when they install one of our wind turbines. Investing in renewable energy endorses the very foundation of Endurance Wind Power's core values," said Glenn Johnson, CEO of Endurance Wind Power.
The partnership between Endurance Wind Power and Bullfrog Power will inject, from the Bear Mountain Wind Park in British Columbia, Canada, 100% renewable wind energy to match what is being used by Endurance's facilities.
Endurance Wind Power is a manufacturer of advanced wind turbines designed specifically for distributed wind power applications. Their line of modern, induction-based wind turbines brings efficient, reliable, safe and quiet, renewable energy within reach of homeowners, farmers, businesses and institutions across North America, the United Kingdom and an expanding global market.
Bullfrog Power, Canada's 100 percent green electricity provider, offers homes and businesses a clean, renewable electricity choice. Bullfrog's electricity comes exclusively from wind and hydro facilities that have been certified as low impact by Environment Canada instead of polluting sources like coal, oil, natural gas, and nuclear.
If you would like more information about this topic, or to schedule an interview with Glenn Johnson, please call Brian Hanson at +1 604 579 9439 or email Brian at bhanson@endurancewindpower.com.
Featured Product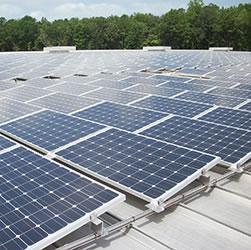 The Power Rail™ Commercial Mounting System is designed with the professional PV solar installer in mind. Both the XD/UD and LD/MD rails feature single tool assembly with the revolutionary patented RAD™ Lock-in-Place bolt for fast and secure module clamping. The high strength marine-grade aluminum rails include an integral wiring channel for securing cables and providing a professional finish.