Six-figure up-front savings achieved by shifting array wiring away from traditional series-wired string architecture
SAN JOSE, Calif., Jan. 25, 2010 - eIQ Energy's Parallel Solar technology has been selected for a new 1.8 megawatt solar power installation at a Bee Safe Storage facility in Murrieta, Calif., creating significant up-front cost savings and ongoing energy harvest benefits.

Installation will be completed by EcoOneEnergy of Escondido, Calif., using crystalline solar modules driving multiple inverters.
An array of this size requires thousands of solar modules. Traditionally, they would have been connected in series-wired strings (each typically containing a dozen or two modules), with each string being wired to a combiner box and then routed to an inverter.
By opting instead for the parallel wiring approach enabled by eIQ Energy's vBoost DC-to-DC voltage optimizer, the need for cabling, combiner boxes, and other hardware is sharply reduced - as is the amount of labor needed during installation. Hardware savings alone on the Bee Safe Storage project will be in the hundreds of thousands of dollars, more than offsetting the cost of the eIQ Energy vBoost, which are installed on each panel or group of panels.
Over the lifetime of the installation, eIQ Energy's Parallel Solar technology will also provide distributed MPPT, precision panel-level monitoring of performance, and Web-based access to operational data. The vBoost also eliminates power-sapping interactions between panels on the same string that have different output levels due to shading, soiling, aging, or other issues.
"The Parallel Solar approach was an obvious choice for this installation," said Eugene Wilkie, CEO of EcoOneEnergy. "It freed up our designers to focus on what would provide the best power output, rather than having to worry about string architecture and voltage management. We're also saving a substantial amount on combiner boxes, cable and conduit, and the snap-together connection on the vBoost modules are a tremendous time-saver."
"As we approach the first anniversary of vBoost's entry into the market, we're seeing Parallel Solar gaining increasing traction in the marketplace," noted eIQ Energy CEO Oliver Janssen. "The Bee Safe Storage project is our largest to date, and an indicator of the interest we're seeing in commercial-scale installations where the cost savings really add up."
"In addition to generating electricity, the trellis installation at Bee Safe Storage in Murrieta will provide valuable shading for a vehicle storage area located at the storage facility," stated Mike Delaney, CEO of Bee Safe Storage.
About eIQ Energy
eIQ Energy, Inc. uses unique power management technology to make solar energy more effective and affordable. The company's Parallel Solar technology, built around the vBoost converter module, reduces overall system costs and enables a true parallel architecture, benefiting system designers, installers and operators. eIQ Energy was founded in 2007 with the principal goal of improving the performance and the return on investment for clean energy sources such as photovoltaic systems. Headquartered in San Jose, Calif., eIQ Energy's executive team combines sophisticated knowledge of power supply design, semiconductors and energy management with broad entrepreneurial skills. For more information, please visit www.eiqenergy.com
About EcoOneEnergy
EcoOneEnergy, LLC is a renewable energy systems developer and integrator specialist focused on renewable energy projects (PV solar and wind) for power generation and the reduction of energy consumption in the industrial, commercial and educational markets. The company's target markets are the Southwest United States and Mexico. Projects range in size from commercial roof mount systems to utility size PV solar ground mount and wind farm systems, anywhere from 1MW to 1GW in size.
Featured Product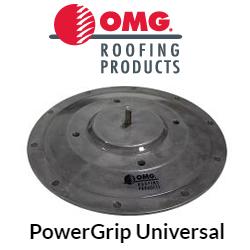 Eliminate Solar Rack Ballast and Reduce Rooftop Material Handling. PowerGrip™ Universal (PGU) is a commercial roof mount system designed to secure solar racks and other equipment to any type of commercial roofing system. PGU provides a secure connection directly to the roof deck or structural members and is designed to reduce or eliminate ballast in solar racking systems, so there's less weight on the roof and less material handling. Made of heavy-duty cast aluminum, PGU units include a base ring which is secured through the roofing cover and into the structural roof deck, and a waterproof top plate.