Shining Through as Highly Advanced Solutions for Streamlining Oversight of Shop Operations from Front to Back, MIE Trak MRP/ ERP Software and the Increasingly Popular QuoteIT Tool Conquer the Market with Their Modern Features and Capabilities
Jan. 30, 2011 - the versatile MIE Trak package from popular manufacturing software developer MIE Solutions UK Ltd has established itself as a vital software solution for companies in various branches of manufacturing. Specially designed to streamline oversight of shop operations from front to back, the mentioned MRP / ERP software incorporates shop floor data capture, bar coding, job costing, quoting and estimating, material resource planning, scheduling, inventory control and shipping data.

As MIE Solutions' vice president and CFO Don Clutter points out, the wide majority of MIE Trak customers come from the metalworking job shop environment, which, due to its growing complexity, nowadays more than ever depends on proven automated modules for effective management. In addition to quite an ample array of useful features, MIE Trak provides users with advanced customization options so that they can adapt the software to match their exact business needs and requirements. When corroborated with QuoteIT - a leading quoting/ estimating software from the same provider - MIE Trak becomes a multifaceted tool with extensive capacity planning capabilities.
"Many shops have their own way of quoting, calculating run times and determining what they charge for different operations," Clutter states. "All they have to do with MIE Trak is input their formulas and then they can consistently quote. For example, if a customer were to call and ask, 'you quoted me a price at 25 parts, but what would the price be if I needed 40 parts?' Well, all a shop would have to do is plug the number 40 into the software for that part and it would have the new price." An increasingly popular estimating software / quoting software tool, QuoteIT takes these capabilities to the next level, helping, among other things, to ensure better consistency in quoting and to minimize quoting errors.
MIE Trak is an easy to use production control and job tracking solution aimed at helping companies boost operating profits without the risk of increasing their overhead as well. MIE Trak integrates all aspects of the fabrication business process to provide vital management information when you need it. The MIE Trak ERP and MRP system is designed for manufacturers looking to improve their bottom line with a competitively priced software solution.
Some of the features in MIE Trak include: quote, order entry, quote letter, router, work order, costing, purchasing, receiving, raw material, inventory, shipping, invoicing, and finished goods, inventory scheduling, tracking, accounting, EDI module, shop overview, shipping and invoicing reports, as well as integration into many external accounts packages.
A powerful quoting/ estimating module, QuoteIT reaches even deeper into these areas of capacity planning software, helping users minimize the time needed to produce a quotation and enabling them to determine prices more accurately.
For a more comprehensive list with details about these two products, please visit the links provided below.
http://www.mie-solutions.co.uk/MIEtrak.html
http://mie-solutions.co.uk/index.php/quoteit.html
MIE Solutions is a leading provider of production control software for the entire manufacturing sector. Corroborating MRP, ERP, Scheduling Shop floor data capture (SFDC) with bar coding and costing capabilities, MIE Trak (formerly known as FabriTrak) is the market leading software for sheet metal fabricators, precision engineers and manufacturers. The company' list of services also includes training, full product support and on-site implementation.
The mission of MIE Solutions is to apply advanced technology to improve manufacturing productivity and quality in the field of fabrication. The company has a long, successful history in the business, and is renowned for meeting its customers' requirements with maximum professionalism, speed, courtesy, transparency and honesty.
# # #
MIE Solutions UK Ltd is the leading provider of production control software, Document Management and B2B Web portal solutions suitable for the entire manufacturing sector.
Address: Unit 66 Sugarbrook Road
Aston Fields I/E
Bromsgrove
B60 3DN
Phone Number: +44(0)1527 576444
Email : uksales@mie.co
Website: http://www.mie-solutions.co.uk
Featured Product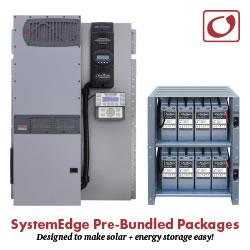 Each pre-bundled package is designed to make solar plus energy storage easy. By combining OutBack's most popular FLEXpower pre-wired systems with matched OutBack energy storage, SystemEdge takes the guesswork out of installing solar plus storage. Every SystemEdge package includes a FLEXpower factory pre-wired system, application-specific EnergyCell batteries and racking, FLEXware ICS Plus combiner and all the necessary connection hardware.