Featuring Solyndra and SMA Solar Technology
EAST RUTHERFORD, NJ - Allied Building Products Corp., one of the nation's largest distributors of building products, will hold its second monthly training session for solar contractors on Tuesday, March 22, 2011. In partnership with Solyndra and SMA, the daylong sessions will offer attendees a hands-on experience assembling Solyndra solar panels.

"These sessions train contractors and their employees to be ready for the many green jobs being created by New Jersey's forward looking solar programs," said David Jenkins, General Manager of Allied's Solar Division. "By leveraging our partnerships with industry leaders Solyndra and SMA, we can provide real value to the solar marketplace."
"This is an excellent opportunity for Solyndra to introduce its proven 200-series panels to the community of solar contractors in the region," said Karen Alter, Senior Vice President of Marketing, Solyndra. "It's important for us to educate contractors in the industry about our products that are designed specifically for the challenges of the commercial and industrial rooftop."
For the first half of the session, attendees will learn about the new Solyndra 200-series panels, then visit the Allied workshop and learn how to install them. After lunch, attendees will be given a presentation from SMA, learning about its inverters and applications.
The Solyndra training will be held at Allied's state-of-the-art conference center from 8:30 am to 11:30 am and the SMA training from 12:30 pm to 3:30 pm. There is a $50 per person attendance fee; this includes both training sessions with breakfast and lunch served.
About Allied Building Products Corp.
Allied Building Products Corp. distributes building products to specialty contractors from over 180 locations throughout the US. Allied is a division of Oldcastle, Inc., the North American holding company for CRH plc (NYSE: CRH). Allied's Solar Division supplies solar panels, mounting hardware, inverters and monitoring systems to qualified solar contractors. For more information, please call 1 (877) 870-7887, or visit http://solar.alliedbuilding.com/.
# # #
Press Contact: Jen Lynch (212) 660-2555 ext. 11
Featured Product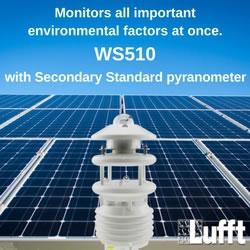 Professional weather sensors form the heart of large solar plants supporting their operation and performance. Lufft was the first manufacturer to combine several sensors in one housing, bringing the largest multiparameter weather sensor family with 19 members into being. Many of them are well-suited for solar site assessment and continuous monitoring. The most commonly used one is the WS600 delivering data on temperature, air pressure, wind, relative humidity and precipitation. Through its open protocol, it can easily be attached to radiation sensors e.g. from Kipp&Zonen. Other models have an integrated Silicon, Second Class or Secondary Standard radiation sensor.