Germany's BELECTRIC developed more than 300 MW of PV systems in 2010, propelling it to the top of IMS Research's 2010 Global PV System Integrator Rankings.
BELECTRIC tops Global PV System Integrator Rankings:
German suppliers continue to dominate
Wellingborough, UK - 23rd March 2011: Germany's BELECTRIC developed more than 300 MW of PV systems in 2010, propelling it to the top of IMS Research's 2010 Global PV System Integrator Rankings. The company (formerly known as Beck Energy) narrowly edged out Germany-based juwi, and ranked five places ahead of 2009 leader Q-Cells International, which saw close to zero MW growth last year.
However, despite the top spot and a three-fold increase in PV systems developed, BELECTRIC still only managed to capture a 2.4% share of the non-residential PV market, estimated at 13.2 GW by IMS Research.
"Our on-going quarterly survey of close to 500 system integrators and engineering, procurement and construction contractors (EPCs) revealed a fragmented market with the top 30 suppliers holding only a 22.1% aggregate share, down 2 percentage points on the previous year," says Ash Sharma, PV Research Director at IMS Research.
The latest global rankings also reveal Germany's ongoing PV dominance, with 13 of the top 30 system integrators from that market. And despite the fact that newly added annual German PV capacity is expected to decline in the coming years, it is clear that these companies will remain prominent.
"German system integrators have become increasingly active in foreign markets, whilst maintaining a domestic stranglehold," explains Sharma. "They accounted for 19 of the top 20 rankings in Germany last year."  
World PV System Integrator Market Rankings - 2010
For all PV Systems >10kW
HQ Location Company Name 2010 Rank
Germany BELECTRIC 1
Germany Juwi 2
USA SunPower Corporation 3
France EDF Energies Nouvelles 4
USA SunEdison 5
Germany Q-Cells International 6
USA First Solar 7
Belgium Enfinity 8
Germany Phoenix Solar 9
Germany Gehrlicher Solar 10
Germany GP Joule 11
Italy TerniEnergia SPA 12
Germany Relatio PV 13
Germany S.A.G. Solarstorm 14
Spain Fotowatio Renewable Ventures 15
Source:IMS Research Mar-11
US-based system integrators are gaining ground rapidly, as revealed by IMS Research in January, and two players, SunPower and SunEdison, were the biggest integrators in 2010 in Italy, the world's second-largest market. Surprisingly, only three Italian companies appear in their top 10 domestic rankings, with many large US, German and Spanish suppliers quickly moving into this exploding market.
IMS Research expects the US non-residential market to become flooded by EPCs, with massive growth predicted in 2011 and 2012. "We've already identified close to 150 active US-based system integrators, plus many more European and Asian companies that are entering this promising market," says Sharma.
Ends
For more information please contact:
IMS Research
Chris George, Press Manager, T: +44 (0) 1933 402255 Chris.George@imsresearch.com
Ash Sharma, Research Director T: +44 (0) 1933 402255 Ash.Sharma@imsresearch.com
Twitter: @IMSResearch_PV
Greenfields Communications
Wes Rogers T: +1 912 506 0869 wrogers@greenfieldscommunications.com
Lucy Green T: +44 (0) 7817 698366 lgreen@greenfieldscommunications.com
About PV system integrator market analysis
This new quarterly database provides detailed information on the world's leading PV system integrators, along with planned PV installations over the next two to three years. The Q111 edition with 2010 market shares and rankings was released in mid-March 2011.
About IMS Research - Photovoltaics
IMS Research is a leading independent supplier of market research and consultancy to the global electronics industry, offering syndicated market studies, bespoke research and consultancy services. The company is one of the most respected commentators in the renewable energy field, with a particular expertise in the PV (solar) market. We currently have seven analysts dedicated to researching the PV market and we cover every aspect of the supply chain from polysilicon supply to PV modules, inverters and PV system integrators. IMS Research is aggressively pursuing supply chain coverage of the PV industry where it now offers over 25 reports with a 10-person research team with seven dedicated analysts across three continents. PV@imsresearch.com; http://www.pvmarketresearch.com
To find out more about IMS Research please contact enquiries@imsresearch.com; T: +44 (0) 1933 402255; http://imsresearch.com
Featured Product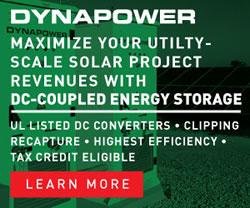 The addition of energy storage to an existing or new utility-scale PV installation allows system owners and operators the opportunity to capture additional revenues. Traditional storage plus solar applications have involved the coupling of independent storage and PV inverters at an AC bus or the use of multi-input hybrid inverters. An alternative approach - coupling energy storage to PV arrays with a DC-to-DC converter - can help maximize production and profits for existing and new utility-scale installations. DC-Coupled Utility-Scale Solar Plus Storage leads to higher round-trip efficiencies and lower cost of integration with existing PV arrays and at the same time, opens up new revenue streams not possible with traditional AC-coupled storage, including clipping recapture and low voltage harvesting, while being eligible for valuable tax incentives.