Sustainable Energy Technologies Ltd Canada's solar inverter company, announced today that it will raise up to $2 million by way of a private placement of Units consisting of one common share and ...
- Proceeds to Accelerate Production to Meet New Demand in U.S. -

Toronto, Ontario - March 17, 2011 - Sustainable Energy Technologies Ltd (TSX V:"STG") ("Sustainable Energy" or the "Company") Canada's solar inverter company, announced today that it will raise up to $2 million by way of a private placement of Units consisting of one common share and one half of one common share purchase warrant exercisable for a 2 year period at $0.20 per share.
The Units are priced at $0.14 per Unit. The proceeds of the issue will supplement an announced bank operating line which was secured in part by a $1.5 million standby equity agreement with the Company's largest shareholder. (See News Release dated March 16 2011).
"The additional capital will be used to accelerate production of the SUNERGY inverters to meet new
demand in the US and to provide for unforeseen contingencies," said Michael Carten Chief Executive
Officer of Sustainable Energy.
About Sustainable Energy:
Sustainable Energy (www.sustainableenergy.com) is Canada's solar inverter company. The Company's patented inverter technologies are a breakthrough in power inverter design and capabilities for all forms of distributed generation and smart grid applications.
The SUNERGYTM inverter is the industry's only grid-interactive solar inverter which enables a "parallel"
solar PV system architecture in higher power ratings at a cost and serviceability factor that is comparable to conventional inverters in the market. The benefits of parallel solar are: (i) 5% - 25%
higher total system power output; (ii) a better fill factor enabling better coverage of available space;
(iii) simplified system design and installation; and (iv) the safety of extra low operating voltages which
ensures the safety of building maintenance personnel, first responders, and tradesmen who may accidentally come into contact with system wiring.
Sustainable Energy's technologies are the subject of multiple patents issued by and pending with the
Canadian and US Patent Offices.
Forward Looking Information
The reader is advised that some of the information herein may constitute forward-looking statements within the meaning assigned by National Instruments 51-102 and other relevant securities legislation. In particular, we include: statements concerning the impact of our technology on solar PV system performance; statements
concerning demand for products and statements concerning the potential for positive cash flow and earnings. Forward-looking information is not a guarantee of future performance and involves a number of risks and
uncertainties. Many factors could cause the Company's actual results, performance or achievements, or future events or developments, to differ materially from those expressed or implied by the forward-looking information. Readers are cautioned not to place undue reliance on forward-looking information, which speaks only as of the date hereof. Readers are also directed to the Risk Factors section of the Company's current Annual Information Form which may be found on its website or at www.sedar.com The Company does not undertake any obligation to release publicly any revisions to forward-looking information contained herein to reflect events or circumstances that occur after the date hereof or to reflect the occurrence of unanticipated events, except as may be required under applicable securities laws. Neither the TSX Venture Exchange nor its Regulation Services Provider (as that term is defined in the policies of the TSX Venture Exchange) accepts responsibility for the adequacy or accuracy of this release.
Company Contact Information
Michael Carten
Chief Executive Officer
Michael. Carten @SustainableEnergy.com
Phone: 403.508.7177 #111
Lise Richard
Investor Relations
Phone: 403.508.7177 #113
Lise.richard@sustainableenergy.com
Featured Product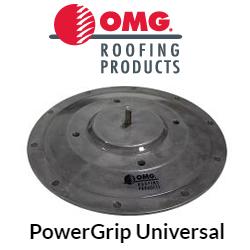 Eliminate Solar Rack Ballast and Reduce Rooftop Material Handling. PowerGrip™ Universal (PGU) is a commercial roof mount system designed to secure solar racks and other equipment to any type of commercial roofing system. PGU provides a secure connection directly to the roof deck or structural members and is designed to reduce or eliminate ballast in solar racking systems, so there's less weight on the roof and less material handling. Made of heavy-duty cast aluminum, PGU units include a base ring which is secured through the roofing cover and into the structural roof deck, and a waterproof top plate.