Dimming helps households and organisations alike to make a significant contribution towards the protection of the environment by reducing energy consumption, lamp replacement and all associated costs.
Mumbai, 2011: Every year on a given day cites across the globe pledge to commit themselves to lasting environmental actions. Many are participating to switch off lights on the 26th of March at 8.30pm but for the long run, cities have switched to LED lights, initiated long term water protection and tree planting initiatives, reforesting land running into hectares, developing carbon credit policies, etc

Landmarks and global icons such as Gateway of India, Taj Hotels in Mumbai and Delhi, India Gate, Chhatrapati Shivaji Terminus in Mumbai, Bollywood celebrity - Vidya Balan & Cricket legend - Wasim Akram are joining millions of people from community, business, government, transcending barriers of race, religion, culture, society, generation and geography in a global celebrations of their commitment to protect one thing that unites us all.
Since the first earth hour, in 2007 till date 4600 cities have switched off lights but now we need to go beyond the hour. After you have switched the lights back on,'Rethink Dimming.'
History of dimming was rewritten in 1960, when Founder of Lutron, Joel Spira invented the first ever energy-saving electronic dimmer. Before that, dimming was done with bulky rheostat dimmers which could only dim by transforming electricity into heat without saving any energy at all.
Energy Saving has become a global concern with consumers, corporations and governments alike demonstrating their desire to provide a sustainable environment for future generations. There are many different approaches to deal with this hot issue: recycling, less usage of plastic bags, turning the car off when stationary, setting the room temperature to 25.5 C. However an area that is often over looked in reduction of energy is lighting, even though it is the most common source of energy consumption in any building
Dimming helps households and organisations alike to make a significant contribution towards the protection of the environment by reducing energy consumption, lamp replacement and all associated costs. Other benefits being an increase in comfort level, the prevention of distractions, the ability to enhance moods, the extension of lamp life and just having the convenience of choice.
The key to dimming is TRAIC (TRIode for Alternating Current). At the heart of any dimming component, an electronic switching component allows current to flow in either direction. It allows light to be switched on and off very rapidly - approximately 120 times a second. The longer the light is on vs off, the lower is the light output
Dimming Electricity Saved Bulbs Last Longer
10 % 10 % 2 times longer
25 % 20 % 4 times longer
50 % 40 % 20 times longer
75 % 60 % > 20 time longer
So, Switch off and Dim on
The beauty of dimming is that by dimming 10%, your naked eyes won't even notice the difference in light level as your pupils will automatically enlarge to allow more light in. So you can virtually save energy without noticing the change in light level. Beside, dimming can give you the desirable light level for different activities. Some activities like reading require brighter light level while other activities like dinning or listening to music need lower level and more ambiance.
Saving Energy the Lutron Way
Lutron is committed to helping its customers find ways to save energy and all of Lutron's lighting control systems enable customers to reduce electricity usage and extend lamp life significantly. In addition, the company's range of shade and blind controls allow natural light levels to be maximised, offering the ultimate in efficient artificial and natural lighting control. Lutron leads the industry in controlling energy efficient light sources and full-range dimming is now possible for a wide range of fluorescent lamp types. The trend toward LED lighting for accent and general lighting is growing, and Lutron is there to control it all.
Lutron Electronics Co., Inc., headquartered in Coopersburg, Pennsylvania, is the world's leading designer and manufacturer of lighting controls and architectural lighting control systems for residential, commercial and institutional applications. The company that invented solid-state dimming, Lutron is the most recognised and requested brand in the industry and sells and services products in more than 80 countries around the world. It offers more than 15,000 products—from single-room dimmers to comprehensive architectural systems that operate lighting throughout an entire building and can control virtually any lamp source. Lutron has offices in New Delhi, Bangalore, Mumbai, Dubai, Hong Kong, Shanghai, Beijing, Singapore, Tokyo, Barcelona, Berlin, London, Madrid, Mexico, Paris and Sao Paulo.
Featured Product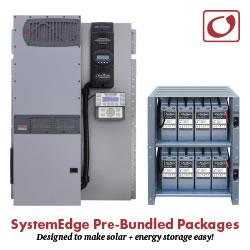 Each pre-bundled package is designed to make solar plus energy storage easy. By combining OutBack's most popular FLEXpower pre-wired systems with matched OutBack energy storage, SystemEdge takes the guesswork out of installing solar plus storage. Every SystemEdge package includes a FLEXpower factory pre-wired system, application-specific EnergyCell batteries and racking, FLEXware ICS Plus combiner and all the necessary connection hardware.