With certifications of Jordan Valley Community Health Center and Hillsboro Area Hospital and Health System, Vertegy now has 30 LEED certified facilities in its portfolio
St. Louis-based Vertegy has solidified its spot as one of the dominant forces in the green building industry. The award-winning sustainability consulting firm, which was founded just six years ago, was recently notified by U.S. Green Building Council (USGBC) that Jordan Valley Community Health Center, located in Springfield, Mo., and Hillsboro Area Hospital and Hillsboro Area Health System, located in Hillsboro, Ill., were both awarded LEED Gold certification, becoming the 29th and 30th facilities that Vertegy has been credited with helping to achieve LEED certification. Of the 30 projects in Vertegy's portfolio, five are certified at the LEED Platinum level, 10 at the LEED Gold level and 11 at the LEED Silver level.

"It is so rewarding to see that so many owners and developers are becoming aware of the benefits of green building," noted Thomas Taylor, general manager of Vertegy. "We are thrilled to play such an integral part in helping clients achieve their sustainability goals."
Jordan Valley Community Health Center is a Federally Qualified Health Center that provides primary medical, dental and behavioral health services to individuals in Southwest Missouri. To better serve their growing client base, the owners reached out to Vertegy, Alberici Constructors and architect the Lawrence Group to renovate a more conveniently located existing building/site. The goal was to transform the existing facility to provide the larger space needed to accommodate the health center's growing accommodations, while promoting accessible and environmentally friendly features. Vertegy, which served as the LEED consultant on the 72,000-square-foot building renovation and re-allocation, assisted the project team in incorporating environmentally friendly interior finishes such as super glass to create an energy-efficient design, clerestory windows and expansive day lighting. The project team was also able to reuse 92 percent of the existing structure, and more than 60 percent of the construction and demolition waste was carefully diverted from the landfill by way of recycling centers and reuse. Some additional sustainable elements include:
• White membrane roofing material to decrease the heat island effects to the surrounding area
• Water-efficient flush/flow fixtures like dual-flush water closets, low-flow urinals and low-flow lavatory and kitchen faucets
• Vegetation and pervious paving blocks which replaced the existing impervious pavement
• Use of whole-building simulation for energy modeling to help provide information about the energy efficiency of the building and guide the design process, resulting in an estimated energy savings of more than 28 percent
The facility owners also incorporated signage explaining the sustainable features, and a green cleaning management program that addresses cleaning products and procedures.
To help the 22,700-square-foot addition to the Hillsboro Area Hospital and Health System achieve LEED Gold certification and ultimately display the hospital's commitment to the environment, Vertegy partnered with Alberici Constructors, architecture firm Space and leaders from the hospital to incorporate several sustainable elements into the facility. These features, which helped garner the LEED Gold certification include:
• A white membrane roof and a portion of high albedo paving surfaces to decrease the heat island effects
• Dual flush toilets, 0.5 gallons per flush urinals and low-flow lavatory and kitchen faucets
• Landscaping that requires no permanent irrigation
• Preferred parking for carpoolers and low-emitting and fuel-efficient vehicles
• Use of whole-building simulation for energy modeling to help provide information about the energy efficiency of the building
• Vegetated, open areas for over 50 percent of the site
• Refrigerants chosen with regard to ozone-depleting and global-warming potentials
• Use of recycled and regionally-sourced materials, and careful diversion of more than 75 percent of the construction and demolition waste from the landfill
The ventilation system has been designed to incorporate an outdoor air delivery monitoring system, and the project team followed a stringent no or low-emitting VOC policy and Construction Indoor Air Quality Management program during construction. The addition was designed to house emergency room areas, CT and X-Ray rooms, ultrasound and mammography spaces, general exam rooms, and educational spaces in conjunction with Lincoln Land Community College.
"More and more hospitals and health centers are becoming aware of all the benefits associated with sustainable design, and as a result, we have seen an increase in the demand for LEED services from their owners and operators," noted Taylor. "Jordan Valley Community Health Center and Hillsboro Area Hospital & Health System will not only provide healthier environments for staff and patients but will also serve as models for other facilities around the nation."
Out of the 30 facilities Vertegy has helped achieve LEED certification, some of the most notable include the LEED Platinum St. Louis-based Alberici Office Headquarters, which after seven years is still considered one of the greenest buildings in the world, and the Benedictine Women of Madison/Holy Wisdom Monastery in Madison, Wis., which earned 63 points from USGBC in 2010, becoming the highest-rated LEED-NC Platinum building in the country. While Vertegy has a dominant position in the domestic green building industry, its award-winning sustainable design and consulting services have also caught the attention of development teams overseas. Currently, Vertegy is working on several sustainable projects in Doha, Qatar.
Founded in February 2005, Vertegy provides clients with design, procurement and construction consulting services for green and sustainable facilities. One of the key ways Vertegy serves clients is by helping them gain certification for their projects from various nationally and internationally recognized certification bodies, such as the U.S. Green Building Council (USGBC), which provides LEED (Leadership in Energy & Environmental Design) certification. Vertegy — which is derived from combining the Latin root for green and strategy — is based in St. Louis at the LEED Platinum Alberici Corporate Headquarters. For more information, call 314.733.2666 or visit www.vertegyconsultants.com.
Featured Product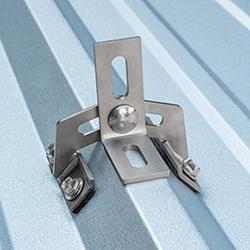 QuickBOLT Low Profile QuickBOLT with Microflashing™ is the industry's affordable, UL Certified Asphalt Shingle mounting system. The Microflashing™ is compressed by the collar on the bolt to create a water-tight seal. With an installation time of less than one minute, the Low Profile QuickBOLT allows installers to complete more jobs.