There is 28GW of total PV installed capacity in Europe, which equals the electricity consumption of approximately 10 million households.
With the Feed in Tariff instability across Europe it means the speed of future PV installations will see a slower growth rate, as investors reconsider and recalculate their ROI.

This means now more than ever, the European solar developers and EPCs are focusing their efforts into harvesting every kilowatt-hour possible to drive investor confidence but more importantly to optimise plant output.
Yet, balance of systems (BoS) has barely earned a second glance. However, these components account for slightly more than 50% of the cost of a total system. More significantly BoS components offer a largely untapped opportunity to improve the levelized cost of electricity (LCOE) for solar plants.
Actually ensuring the plant performs as expected and within budget is an engineering challenge that poses many difficult design questions. Any slight miscalculation in LCOE dramatically impacts the bottom line, and in a market where every cent counts developers could soon be running unprofitable plants.
Also the reassurance of buying cheap modules for quick cost reductions is no longer an option with market prices stabilizing, and with poor quality products running the risk of lower efficiency. That's why intelligent balance of system engineering is pivotal in squeezing out those key efficiency gains that could drive plant efficiency.
What are all the factors counted in the €/Wp
Whether it be poor component selection, flawed plant layout, costly wire design or badly executed O&M, balance of system engineering done inadequately costs time, money and output. The European's experience and more mature solar farm market means leading companies such as 9REN, Phoenix Solar, Juwi, and Gehrlicher hold valuable information and have hundreds of MW experience in plant optimisation. For the PV industry to continue growing its GW capacity it is critical for the PV players to have an effective strategy in order to prevent lower efficiencies, higher costs and an exceptionally high LCOE - what does this mean? The PV industry in the Europe need to stop relying on the safety net provided by Feed in Tariffs and design, build and construct PV plants that are efficient and profitable.
PV Insider, the organisers of the PV Balance of Systems Conference & Expo taking place June 28-29 in Berlin, have organised an forum where the leading PV developers and EPC's will be presenting on the key issues facing Balance of System engineering, including: inverter reliability & durability, mounting, corner junction boxes, wiring design, string level monitoring, inverter monitoring, 1-axis & 2-axis trackers, grounding lugs, roof membranes, as well as warranties and shaping component standards. The event brochure is available at http://www.pv-insider.com/balanceofsystems/download-brochure.shtml
For more information on the event please contact:
Heidi Hafes
Research & Events Director
PV Insider
+ 44 207 375 7206
heidi@pv-insdier.com
http://www.pv-insider.com/balanceofsystems/
Featured Product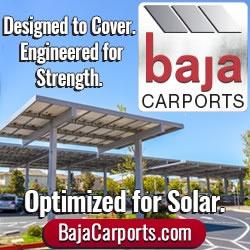 Baja Carports specializes in design-build Solar Support Systems™ for mainframe carports & shade canopies. Our patented product line is designed in-house by Baja engineers. Product structures are pre-fabricated from pre-galvanized high-tensile, light gauge steel, and installed by Baja crews. Carports, RV/boat storage, EV stations, & ground mounts are customized to meet customers criteria. Baja's objective for each Solar Support System™ is to leverage optimal electrical production while maximizing coverage. Baja produces cost-effective carports for commercial businesses.