More than 2,150 solar photovoltaic panels will be installed by July on six American University buildings resulting in the largest solar power system in the District of Columbia.
With a mandate for renewable energy in the District of Columbia in place, and a commitment to become carbon neutral by 2020, American University is installing one of the largest solar electricity systems in Washington, D.C. and the largest urban solar hot water system on the east coast.

More than 2,150 solar photovoltaic panels will be installed by July on six American University buildings resulting in the largest solar power system in the District of Columbia.
In addition, 174 solar thermal energy panels will be installed on four campus buildings by July, providing hot showers to more than 2,000 students living on campus and hot water to the university's largest dining hall.
Combined these 2,300 solar panels create the largest use of solar technology in the Washington Metro area and showcase how AU is finding innovative ways to fight climate change.
"Not only is solar power the right thing to do, it will also reduce the university's energy costs the day we flip the switches on the new systems, proving that solar can be clean and green," says Chris O'Brien, director of sustainability at American University. "We are also working to explore other ways to develop even larger scale renewable energy sources in the Washington region, so stay tuned."
Last spring, American University announced its plans to neutralize greenhouse gas emissions and become a carbon-neutral campus by 2020. AU is reducing energy consumption, using wind power for 100% of its purchased electricity, exploring large-scale renewable energy development in the D.C. area, and planning to mitigate university travel emissions by supporting carbon offset projects this year. Plans are underway to create renewable energy on campus by installing a wind turbine, designed by an AU professor, to be placed atop a parking garage, and will install a generator that runs on used cooking oil from the campus dining hall.
Electricity from the solar photovoltaic panels will avoid more than 557 tons of carbon per year, the equivalent of eliminating greenhouse gas emissions from 57,500 gallons of gasoline annually, or nearly 1 million gallons over twenty years.
The new solar photovoltaic power system dramatically expands the university's existing 27 kilowatt solar photovoltaic system installed on the LEED Gold certified School of International Service building. The new arrays will be installed and operating on three additional buildings on the AU campus—Katzen Arts Center, Mary Graydon Center, Bender Library—and three off-campus buildings—Washington College of Law, 3201 New Mexico Avenue and 4200 Wisconsin Avenue. The 505 kilowatt system will be installed by Standard Solar Inc. of Rockville, Md. and owned and operated by Washington Gas Energy Services Inc. Combined, AU will have more than 532 kilowatts of solar PV producing about 637 megawatt hours of electricity each year.
The solar thermal system converts sunlight into thermal energy, which is sent to a tank to provide solar heated water for showers and use by the AU community. The system will pump out 5,700,000 BTUs a day—609 megawatt hours of energy annually—equivalent to the amount of energy required to produce 20,795 cheeseburgers every year. According to the EPA, this solar hot water project is the largest in any city on the east coast. Skyline Innovations, a Washington, D.C.-based solar energy company, is providing the system.
As a result of a combination of federal and local incentives, these solar installations will actually reduce American University's energy bills as soon as the systems are in operation. The projects are financed through power purchase agreements with Washington Gas Energy Services and Skyline Innovations, each of which owns and installs its respective system, and sells the resulting energy to American University through long term contracts for twenty and ten years respectively.
American University will officially kick-off these solar projects as the grand finale of its week-long Green Campus-Green Community Earth Week Celebration April 18 through Earth Day on April 22. Each day features a different theme: Monday to Energy & Climate, Tuesday to Transportation, Wednesday to Food and Water, Thursday to Public Service, and Friday will feature an Earth Day festival including the solar groundbreaking ceremony led by AU President Neil Kerwin at 12:30 p.m. in the amphitheatre on campus.
AU's sustainability programs are earning increased recognition. American University earned a STARS gold rating in January from the Sustainability Tracking, Assessment & Rating System developed by representatives from colleges and universities, higher education associations, related nonprofit organizations, businesses, and government agencies. The U.S. Environmental Protection Agency (EPA) honored AU as one of the top colleges in its 2010-2011 College and University Green Power Challenge and Princeton Review's Guide to Green Colleges also included AU.
Featured Product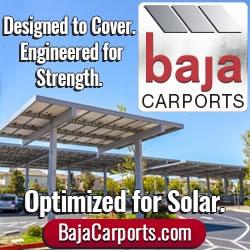 Baja Carports offers an extensive solar support system product line customized to customers' site specifications by in-house engineers, meeting their parking lot coverage, plus optimal PV production needs. Baja's Full Cantilever Tee is often paired with its Semi and Full Cantilever carports to meet live/loads up to 60psf and wind speeds to 160mph. All Baja products are pre-fabricated, bolted connections, pre-galvanized structural steel for fast on-site installation and project aesthetic requirements."