World leading Small Wind turbine manufacturer Gaia-Wind today launched a revolution for turbine owners: the ability to monitor production from home, in car, or even down the pub!
CEO Johnnie Andringa revealed details of the new Gaia-Wind online monitoring system which offers turbine owners cost effective, real time, ability to access and organise all the data needed to:

• Monitor and improve the effectiveness of their turbine
• Minimise downtime
• Demonstrate the energy they are producing to others
Gaia-Wind and its installers and dealers can now be more proactive in service and maintenance work, remotely managing and improving turbine performance
Owners get 24/7 automated supervision of their installation and a dedicated remote management "digital dashboard". This will deliver live data on:
• Turbine status;
• Wind speeds; and
• Power production; as well as
• Energy production over time.
•
They will also be able to set alarm conditions and receive automated alerts - and all on their mobile phone.
Andringa said:
"The ability to check on the status of a machine 'on the go', means that our owners can get on with their busy lives without having to physically check their turbine's performance: something that can often mean an inconvenient trip to a distant property." Remote monitoring, which provides truly definitive data, is now moving to centre stage in wind turbine management. This challenges manufacturers to live up to their claims.
"As part of our commitment to efficient partnership with turbine owners, we are now deploying cutting edge technology to enable us to offer a dedicated remote management service enabling Gaia-Wind Ltd to take a more proactive role in the management of turbine performance. So a Gaia-Wind owner can check the status of their turbine at any time. They can also check in with the Gaia-Wind team to see if any action is needed. All this information can be accessed by mobile phone, so no need to pull on the wellies and physically visit the site.
Personally, although it's not a very technical point, I am attracted to the idea of monitoring my turbine, or even "showing off" its performance to friends while in the pub!"
For further information call Martin Paterson on 0141 248 5204 or 079207 15345 or visit: http://www.gaia-wind.co.uk/
Notes to Editors
1. Gaia-Wind Ltd is a manufacturer of world leading high performance Small Wind Turbines, servicing farms, large residences, small businesses, and public buildings. The company has offices in Glasgow and Denmark, and has appointed distributors in England, Ireland, Italy and the US.
2. The company has more than three hundred turbines installed worldwide with a combined operational time of some nine million hours.
3. In 2009 more than 60% of Gaia-Wind products were for customers outside Scotland, in 2012 that will have grown to 80% of which more than 40% will be exported outside the UK.
4. Click here for a link to the live, interactive remote management screen
5. Click here for a demo of the unique two bladed Gaia-Wind 133-11kW turbine
Featured Product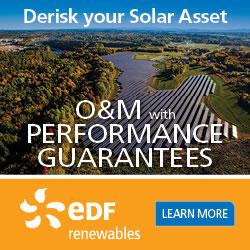 EDF Renewables offers the same innovative solutions that maximize the performance of our own 5.2 GW of installed projects. Because we're not an equipment manufacturer, our recommendations are transparent and data-driven. We cover the entire project lifecycle: from pre-commissioning support, through warranty and post warranty operation, to late stage and decommissioning.