Brings Start-up Companies and Investors Together to Explore Solar Solutions, Tackle Tough Challenges
GENEVA, April 27, 2011 - DuPont Photovoltaic Solutions recently hosted representatives from 25 photovoltaic (PV) start-up companies and six key investment companies from across the European region for its Open Innovation Day at its European Technical Centre in Meyrin, Switzerland. The objective was to bring together innovative companies from the PV industry to openly discuss the challenge of reducing the world's dependence on fossil fuel through new advances in solar power.

Click on the image below to view the video.
"We were able to create an environment in which there was a lively, open dialogue and an active interest in collaborating on concepts that will help this industry tackle some of its toughest challenges," said Marc Doyle, global business director - DuPont Photovoltaic Solutions. "Each participant brought a unique and valuable point of view to the issues. They gave us excellent insights on materials needs and their ideas garnered investor interest as well. This was our first-ever networking event for PV start-ups, and we look forward to continuing to spread the spirit of collaboration as we work together with companies throughout the PV value chain."
A series of plenary sessions ranging from technology road mapping to the innovation process at DuPont were presented. The audience then broke up into workshops to discuss key topics including module materials, installation and framing, smart modules, cell materials, and reliability testing.
"Everybody hopes for a holy grail - a new Teflon® or a new Tedlar® and it's clear it doesn't jump out of the sky," said Toby Meyer, CEO - Solaronix. "Definitely if customers or potential customers are employed in that quest for new materials and maybe even contribute to it or to part of it, that's brilliant - it's a very nice strategy."
Participants included start-up companies 2SN Siena Solar Nanotech, 3E, CIS-Solartechnik, CleanFIZZ by Volotek, Dyesol, Enecom, Flisom, G24 Innovations, Hevel Solar, Integrare, Medici Engineering, Nexcis, n-Tec, PrimusTech Investments, SES - Société d'Energie Solaire, Solaire Direct, Solarion, Solaronix, SolarPrint, Sunplugged Solare Energiesysteme, SweModule, SwissINSO, and Von Roll Solar. Investors included Aloe Private Equity, Apricum, Good Energies, Niton Capital, Rusnano, and Scatec. A broad range of DuPont business, technical and regional leadership involved in PV material developments attended.
"Within this group we have companies with some really innovative technologies but they are operating on a very small scale today," said Doyle. "By finding other companies or investors that they can work with, hopefully we can enable some of the next generations of technologies within photovoltaics."
DuPont plans to host other collaborative events in the Americas and in Asia later this year.
DuPont Photovoltaic Solutions connects science and technology from across the company on a global scale to help support the dramatic growth of the photovoltaic industry. To learn more about DuPont Photovoltaic Solutions, visit http://photovoltaics.dupont.com.
DuPont is applying the power of its science to help reduce the world's dependence on fossil fuels. DuPont has a range of market-leading products that serve the renewable energy industry, including enabling materials for photovoltaics, biofuels, renewably sourced materials and technologies engineered to improve energy efficiency.
DuPont (www.dupont.com) is a science-based products and services company. Founded in 1802, DuPont puts science to work by creating sustainable solutions essential to a better, safer, healthier life for people everywhere. Operating in more than 90 countries, DuPont offers a wide range of innovative products and services for markets including agriculture and food; building and construction; communications; and transportation.
# # #
Featured Product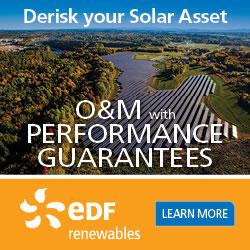 EDF Renewables offers the same innovative solutions that maximize the performance of our own 5.2 GW of installed projects. Because we're not an equipment manufacturer, our recommendations are transparent and data-driven. We cover the entire project lifecycle: from pre-commissioning support, through warranty and post warranty operation, to late stage and decommissioning.