For 20 years, Solar Energy International has served the renewable energy and solar industries with reputable training and outreach. Most recently, Solar Energy International has seen the growth of professions in the green workforce and need for continuous learning and training opportunities.
To meet the needs of professionals seeking continuing education in the solar and renewable energy realm, Solar Energy International introduces the new SEI Continuing Education Series starting June 1. The series features short solar training courses in multiple delivery models, offered through SEI's Online Campus with live webinars and condensed, self-paced online courses.

Designed to educate a variety of students, Solar Energy International's new Continuing Education Series is specifically geared to solar installers and renewable energy professionals, electricians, inspectors, and many other highly technical tradespeople. Solar Energy International's Continuing Education Series will both elevate students' understanding of highly technical concepts and broaden their knowledge with other informational courses.
Additionally, many professions outside the core activities of the green sector are looking to learn the technologies and applications of renewable energy. Many professional certification and licenses allow for continuing education and exploratory learning outside core requrements of the profession to broaden knowledge and skills. Architects, roofers, real estate agents and brokers, K-12 educators, and other industry professionals can use this training series to fulfill broader educational requirements needed to stay licensed or certified in their professional area of emphasis.
Solar Energy International's inaugural webinar in the new Continuing Education Series provides a professional training opportunity targeted to a highly technical audience seeking 2011 National Electric Code updates and how they affect the solar professional and PV system installation and design.
CE: 2011 National Electric Code Updates for the Solar Professional
Join SEI on June 1, 2011 at 1 p.m. MDT for a live three-hour webinar-based training session by registering at https://solarenergytraining.org/login/index.php
Online registration provides participation in the live session, with 30 days of access to the recording. Cost is $49.
Can't make the live session? No problem - you can still register for this course and have the same access to the recorded presentation and resources.
Solar Energy International will discuss these topics:
* Are you are using the best temperature data to calculate maximum system voltage?
* Have you reviewed new requirements for labeling, marking and routing conductors?
* 2011 grounding and bonding requirements have been greatly simplified!
* Wondering about the DC arc-fault protection devices now required?
* Don't forget that PV source and output fuses now require disconnects within sight!
SEI instructors Brian Mehalic and Rebekah Hren will also discuss the following topics:
* The code-making process, looking to 2014, Articles 90.1(B) and 110.3,
* 690.4(B) Qualified persons
* 690.8(B)(1) and (2) Overcurrent devices and conductor ampacity
* 690.13 Exception 2 - Disconnecting means - all conductors
* 690.31(E) DC circuits inside a building - Type MC, distance from decking, marking
* 705.12(A) Size limits of parallel production sources
Have your questions answered, stay up to date with the latest code changes, and improve your PV design and installation skills. Register at https://solarenergytraining.org/login/index.php
Featured Product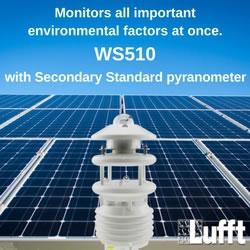 Professional weather sensors form the heart of large solar plants supporting their operation and performance. Lufft was the first manufacturer to combine several sensors in one housing, bringing the largest multiparameter weather sensor family with 19 members into being. Many of them are well-suited for solar site assessment and continuous monitoring. The most commonly used one is the WS600 delivering data on temperature, air pressure, wind, relative humidity and precipitation. Through its open protocol, it can easily be attached to radiation sensors e.g. from Kipp&Zonen. Other models have an integrated Silicon, Second Class or Secondary Standard radiation sensor.