On June 13, 2011, SGS Industrial Services officially opens the Wind Energy Technology Center (WETC) in Tianjin, China.
SGS Industrial Services is pleased to announce the opening of the SGS Wind Energy Technology Center (WETC), taking place on June 13, 2011, in Tianjin, China, in response to the high demand for full-scale testing of rotor blades.

During the opening, which takes place at the SGS Wind Energy Technology Center, SGS will present interesting speeches and presentations related to the renewable energy sector and about the SGS test center. Participants of the event will have an excellent opportunity to learn more about Rotor Blade Testing with a live demonstration of static and fatigue testing.
Strategically located in China, a rapidly growing wind energy market, the WETC primarily focuses on Rotor Blade Testing. Equipped with state-of-the-art technology for load application and blade test measurements, the SGS test center offers a complete set of full-scale blade testing capabilities, including natural frequency, static, fatigue and ultimate static tests as well as consultancy and solutions in the field of wind turbine technologies. With a team of highly qualified engineers and applying international business practices, the SGS test center can perform static and fatigue tests for various purposes, including certification testing, blade design validation, manufacturing quality testing and validation after repairs or design changes.
Thanks to its experience and competence in the wind turbine industry, SGS performs tests with great precision in load applications and detailed measurements. Furthermore, Visual Inspections are carried out and Non-Destructive Testing methods are used to monitor the condition of the blade. Execution and reporting of the tests is done according to IEC-61400-23 and accreditation of the test center to ISO 17025 is in progress.
About SGS Renewable Energy Services
To protect wind energy project investments and assure the quality of wind farms, SGS Industrial Services works as an independent global project surveyor, carrying out inspection, testing, supervision, monitoring, management, verification and certification services for both onshore and offshore wind farm projects.
For each phase of a wind farm project, SGS offers a wide range of Renewable Energy Services. SGS understands the risks entailed in wind farm projects and has precise knowledge of the local legal and regulatory requirements.
For further information, please contact:
SGS Industrial Services
Dr. Pavel Novak
Wind Energy Technology Centre Manager
SGS – CSTC Standards Technical Services Co., Ltd.
SGS WETC, No.22, Xinxing Road,
TEDA West District, Tianjin
China 300462
t:+86 (0) 22 6619 0368
f:+86 (0) 22 6619 0382
Email: industrial.pr@sgs.com
Web: www.sgs.com/industrial
SGS is the world's leading inspection, verification, testing and certification company. SGS is recognized as the global benchmark for quality and integrity. With more than 64,000 employees, SGS operates a network of over 1,250 offices and laboratories around the world.
Featured Product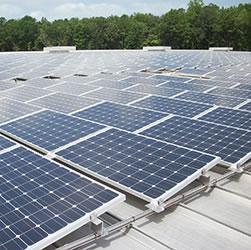 The Power Rail™ Commercial Mounting System is designed with the professional PV solar installer in mind. Both the XD/UD and LD/MD rails feature single tool assembly with the revolutionary patented RAD™ Lock-in-Place bolt for fast and secure module clamping. The high strength marine-grade aluminum rails include an integral wiring channel for securing cables and providing a professional finish.