Kenneth Munson Selected as Panelist for National Association Forum Discussion.
Kenneth Munson, president and co-founder of Sunverge Energy, has been named as a featured panelist at the Electricity Storage Association (ESA) 21st Annual Meeting, June 8, 2011 in San Jose, CA.

In response to market demands for more effective and efficient energy technologies, the renewable energy industry is working to create solutions that produce significant grid-scale benefits including firming capacity, peak load reduction, reduced line losses and reduced greenhouse gas emissions.
"Distributed energy resources using energy storage (DER-ES), when coupled with PV and interoperable with the grid, are a valuable asset class that is well suited to address the growing regulation and balancing requirements of the grid," said Munson. "By implementing storage we can cost effectively deal with variability, optimize our electric power system and help enable greater penetration of renewable energy."
During "A Look Into The Future Radar" discussion session, Munson will present his current company—Sunverge Energy—and the newly developed turnkey solar appliance that captures solar energy and stores it for use when it's needed most. Sunverge integrates a rooftop photovoltaic array, hybrid inverter/converter, Lithium-ion storage and gateway interoperability into one minimally invasive and efficiently-designed unit.
Through Munson's discussion, the audience will learn how DER-ES can be effectively deployed in residential and small commercial environments and how, coupled with solar, DER-ES can enable greater penetration of renewable energy.
Munson has a long history of technology ventures including Inertia Engineering and Kinetek, Inc. He has been responsible for global new business and marketing initiatives, corporate partnerships and expansion and merger and acquisition activities in Asia, Europe and North America.
Other panelists for the discussion include representatives from Charles River Associates, Customized Energy Solutions, LTD., International Zinc Association, Isentropic Ltd., Grid Storage Technologies, LLC, Pacific Northwest National Laboratory, PowerGenix Systems, Sandia National Laboratories, Shin-Kobe Electric Machinery Co., LTD. and the University of Hawaii.
The mission of the ESA is to foster development and realize commercialization of competitive and reliable energy storage delivery systems for use by electricity suppliers and their customers. As the premier forum for electricity storage leaders, the ESA Annual Meeting offers workshops, guest speakers and discussion sessions where attendees will have the opportunity to learn about the latest in economics, policy and technologies of electric storage.
For more information about the ESA Annual Meeting or Munson's discussion, please visit
http://www.electricitystorage.org
###
About Kenneth Munson
Kenneth Munson is president and co-founder of Sunverge Energy and responsible for the company's strategic development including new business initiatives, corporate partnerships and mergers and acquisitions activity. Kenneth holds an MBA from St. Mary's College of California School of Economics and Business Administration (SEBA) in international finance and business administration and a bachelor's degree in marketing communications from California State University, Sacramento.
About Sunverge
Sunverge Energy, a California-based company, optimizes the value of solar power by leveraging the practical advantages of distributed generation and storage. The simple, intelligent and cost-effective energy management system captures solar energy and stores it for use when it's needed most, thereby shifting electrical loads, flattening peak electricity demand and maximizing return on renewable energy investments. With an innovative grid-tied model that aligns the goals of residential consumers and electricity utilities, Sunverge is poised to help solve the energy problems of today and tomorrow. www.sunverge.com.
Featured Product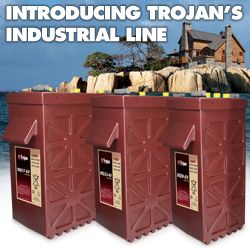 Trojan's deep-cycle batteries provide rugged durability, outstanding performance and long life for use in all types of solar energy installations. With over 90 years of experience, Trojan delivers the world's most reliable and trusted batteries in flooded, AGM, Gel, and Lithium types. These batteries enable solar equipment systems to operate at a peak level of performance in the harshest conditions or the most challenging of locations and are manufactured and tested to IEC standards.