The ongoing PV vs CSP competition is studied in depth at the upcoming CSP TODAY USA 2011 event in Las Vegas (June 29-30) www.csptoday.com/usa
Solar Trust of America announced in May its decision to form a joint venture with leading PV developer SolarHybrid AG. It is the latest - and largest - shift by a CSP developer towards more trusted PV.

The three main attributes that utilities and its customers want in a power source are competitive energy cost, ancillary services that support the power grid, and delivery upon demand. Current energy markets have placed the greatest focus on energy cost from intermittent renewables.
Concentrated solar power's cost has been, fairly or unfairly, priced as an intermittent energy source, because of an enduring skepticism about solar's ability to deliver uninterrupted power, on demand. Yet indeed CSP can provide some ancillary services and, with large-scale storage, power on demand. But will the price be right? This
CSP priced out of the market
"Unless CSP can truly deliver cost-competitive storage and sell the associated ancillary and dispatch services, it will have a very hard time competing with PV on energy price, where currently all the attention is," said Arnold Leitner, founder of SkyFuel and ALNP. "To be blunt, energy from CSP is currently simply being priced out of the market."
Arnold Leitner, who is the moderator for the CSP vs PV session in the agenda at CSP TODAY USA 2011 reckons that the size factor for plants also works against CSP, which is restricted by available locations that can house a 250 MW utility-scale plants and have a market for that much power. "With electricity demand dramatically down and barely recovering in the American West, there's just not enough growth to absorb this added capacity being offered."
Challenges around water for cooling CSP, the speed at which a PV plant can be built compared to CSP, and PV's proven technology are all reasons investors may trust a PV bet over one on CSP.
"Price matters. Solar panel prices have fallen by more than 40% in the last 2 years alone and panel makers claim their prices will drop further by a comparable amount. Show me a CSP company today that dares to forecast such cost reductions," Leitner said. "There's no point in denying these realities, because they are indeed the acting drivers, they do influence decisions, and some projects are being converted from CSP to PV."
STA and SolarHybrid will always focus on big-scale utility projects, Uwe T. Schmidt, CEO of STA says (who is also speaking at the event), but the company will fully explore hybrid solutions on future sites. "Topography requirements for PV are different from CSP requirements, and one can go to somewhat smaller real estate that's closer to population bases with PV than with CSP," he said. "There's (unused) property on our CSP (sites) where we think we could place PV panels."
What remains to be seen is whether some or all forms of CSP can meet or beat the cost-of-energy challenge that PV poses, while also making the market value CSP's ancillary services and long-term storage for dispatchable power, Leitner says. CSP can evolve further by progressing in areas like battery storage, short-term and mid-term forecasting for utilities, and hybridization models with natural gas to ensure backup capacity.
About CSP Today
CSP Today is the leading business intelligence, news and events company focused exclusively on the concentrated solar thermal power industry. For more information please visit www.csptoday.com
For information about the CSP TODAY USA 2011 please visit www.csptoday.com/usa
Contact details:
Bea González
Marketing Manager
CSP Today
bea@csptoday.com
UK Phone +44 207 3757156
Featured Product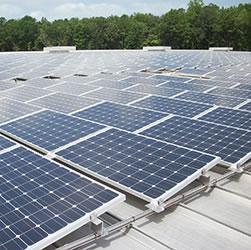 The Power Railâ"¢ Commercial Mounting System is designed with the professional PV solar installer in mind. Both the XD/UD and LD/MD rails feature single tool assembly with the revolutionary patented RADâ"¢ Lock-in-Place bolt for fast and secure module clamping. The high strength marine-grade aluminum rails include an integral wiring channel for securing cables and providing a professional finish.