Schneider Electric will present solar solutions in Booth 7510 at one of the largest solar trade shows in California, Intersolar North America, taking place from July 12-14 in San Francisco.
Schneider Electric will present solar solutions in Booth 7510 at one of the largest solar trade shows in California, Intersolar North America, taking place from July 12-14 in San Francisco.

The Renewable Energies Business of Schneider Electric is focused on designing and developing photovoltaic products and solutions, as well as providing global customer service and technical support. Schneider Electric provides the full, cost-effective solution from the panel DC output to the grid connection, including monitoring and supervision.
In addition, Global Product Line Manager Andrew Riegler will speak at the Intersolar North America conference session on Series Balance of Systems - Tracking of PV Strings: Toward Optimal Harvest Efficiency and Maximum ROI, on July 13 from 12:10 - 12:35 at the InterContinental Hotel, Level 3.
"Intersolar North America offers a great opportunity for customers to see the breadth of our solar solutions and expertise," said Laurent Bataille, Senior Vice President, Schneider Electric.
Products on display at the Intersolar North America booth will include:
Schneider Electric™ XantrexTM XC Series
Available for shipment in early 2012, the XC Series is a new line of central inverters designed for high efficiency and flexibility for any PV panel type and installation. The XC series has peak efficiencies of 98.7%, and its flexibility allows the inverter to be configured with voltage and power outputs up to 680 kVA. In addition, the XC series is designed to allow for DC inputs up to 1000 Vdc for longer string lengths.
Schneider Electric Conext™ Series Grid Tie Solar Inverters
The new line of single- and small three-phase Conext Series Grid Tie Solar Inverters features models ranging from 1.5 to 20 kW. Conext inverters are designed to offer maximum power point tracking (MPPT) that ensures increased energy harvest in shaded installations using Schneider Electric's FastSweep™ technology. The Conext inverter is a proven high-frequency design in a compact enclosure and may be installed as a single inverter for a single photovoltaic (PV) array, or in a multiple-inverter configuration for larger PV systems, integrating into a complete Schneider Electric solar solution for residential and building customers.
Schneider Electric Xantrex XW MPPT 80 600 Solar Charge Controller
The XW MPPT 80 is an innovative solar charge controller that accepts PV array voltages up to 600VDC, significantly simplifying system installation and reducing size and cost for array wiring and associated hardware. The Xantrex XW MPPT 80 600 tracks the maximum power point of a PV array to efficiently deliver up to 80 A of charge current to storage batteries in 24 V or 48 V systems.
Schneider Electric Xantrex GT30 Grid-Tie Solar Inverter
This three-phase, bi-polar inverter delivers 120/208 Vac out of the box and can be used as a building block for larger systems. The Xantrex GT30, weighing in at only 165 lbs (75 kg), is a 30 kW high-performance inverter that makes utility-interactive installations easier and more cost effective. It features a transformerless design, superior PV energy harvest, easy installation, and an ultra-lightweight package.
Schneider Electric PV Box
The Schneider Electric PV Box is a pre-wired equipment package specifically designed to meet the growing demand of a large-scale grid-tied solar farms and large commercial installations in any region of the world, even in the harshest environments. The PV Box is a complete solution, including power conversion, electrical distribution, control, monitoring, and communication, all from one vendor.
About Schneider Electric
As a global specialist in energy management with operations in more than 100 countries, Schneider Electric offers integrated solutions across multiple market segments, including leadership positions in energy and infrastructure, industrial processes, building automation, and data centres/networks, as well as a broad presence in residential applications. Focused on making energy safe, reliable, and efficient, the company's 110,000 plus employees achieved sales of 19.6 billion euros in 2010, through an active commitment to help individuals and organizations "Make the most of their energy."
www.schneider-electric.com
Schneider Electric, Conext, FastSweep, Xantrex and the Schneider Electric logo are trademarks or registered trademarks of Schneider Electric.
Featured Product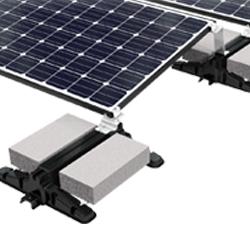 Preformed Line Products introduces the POWER MAX Ballasted Roof Mounting System. The POWER MAX solar mounting system is engineered to maximize energy output on commercial flat roofs. Developed with the professional installer in mind, this system offers adjustable inter-row spacing in the field of up to 11 inches. It features 50% fewer components and a simplified design resulting in faster assembly rates and labor savings on every project. Available in a flush mount, 5˚ or 10˚ tilt or higher density dual tilt design, the POWER MAX base arrives stacked on pallets providing easier transport to the roof. Engineered as a fully ballasted, non-penetrating system, it accepts standard concrete blocks and is qualified by wind tunnel testing.