Proprietary Technology Enables Up to 19.5 Percent Efficiency Increase
SAN FRANCISCO, July 12, 2011 – Canadian Solar, Inc. (the "Company", "we" or "Canadian Solar") (NASDAQ: CSIQ), one of the world's largest solar companies, today announced the availability of its proprietary new ELPS solar cell technology. Canadian Solar's breakthrough ELPS (Efficient, Long-Term, Photovoltaic Solution) technology enables solar cells to collect morelight resulting in up to 19.5 percent cell efficiency for monocrystalline and up to 18 percent efficiency for polycrystalline cells.

"Canadian Solar prides itself in our history of successful technology and efficiency improvements, which benefit customers and help develop the broader global market for solar energy. Our newest launch, ELPS cell technology, enables a significant reduction in production cost per watt, while simultaneously increasing cell energy efficiency," said Dr. Shawn Qu, chairman and CEO of Canadian Solar, Inc. "The increased cell efficiency and the fact that the ELPS cells integrate with our existing product lines will help our customers in both the residential and commercial spaces seamlessly achieve and maintain a higher ratio of power output per investment."
Canadian Solar will hold a presentation on its ELPS technology at 4:00 p.m. PT on July 12 at the Innovation Exchange at Intersolar North America. The cells will also be showcased at Canadian Solar's Intersolar booth # 8710, Level 2.
About Canadian Solar, Inc. (NASDAQ: CSIQ)
Canadian Solar, Inc. is one of the world's largest solar companies. As a leading vertically integrated provider of ingots, wafers, solar cells, solar modules and other solar applications, Canadian Solar designs, manufactures and delivers solar products and solar system solutions for on-grid and off-grid use to customers worldwide. With operations in North America, Europe and Asia, Canadian Solar provides premium quality, cost-effective and environmentally-friendly solar solutions to support global, sustainable development. For more information, visit www.canadiansolar.com.
Safe Harbor/Forward-Looking Statements:
Certain statements in this press release, including statements regarding cell efficiency levels, are forward-looking statements that involve a number of risks and uncertainties that could cause actual results to differ materially. These statements are made under the "Safe Harbor" provisions of the U.S. Private Securities Litigation Reform Act of 1995. In some cases, you can identify forward-looking statements by such terms as "believes," "expects," "anticipates," "intends," "estimates," the negative of these terms, or other comparable terminology. Factors that could cause actual results to differ include the risks regarding the previously disclosed SEC and internal investigations as well as general business and economic conditions and the state of the solar industry; governmental support for the deployment of solar power; future available supplies of high-purity silicon; demand for end-use products by consumers and inventory levels of such products in the supply chain; changes in demand from significant customers; changes in demand from major markets such as Germany; changes in customer order patterns; changes in product mix; capacity utilization; level of competition; pricing pressure and declines in average selling prices; delays in new product introduction; continued success in technological innovations and delivery of products with the features customers demand; shortage in supply of materials or capacity requirements; availability of financing; exchange rate fluctuations; litigation and other risks as described in the Company's SEC filings, including its annual report on Form 20-F originally filed on May 17, 2011. Although the Company believes that the expectations reflected in the forward looking statements are reasonable, it cannot guarantee future results, level of activity, performance, or achievements. You should not place undue reliance on these forward-looking statements. All information provided in this press release is as of today's date, unless otherwise stated, and Canadian Solar undertakes no duty to update such information, except as required under applicable law.
Featured Product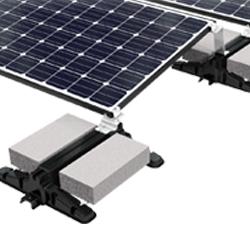 The Power Rail™ Commercial Mounting System is designed with the professional PV solar installer in mind. Both the XD/UD and LD/MD rails feature single tool assembly with the revolutionary patented RAD™ Lock-in-Place bolt for fast and secure module clamping. The high strength marine-grade aluminum rails include an integral wiring channel for securing cables and providing a professional finish.