At the Solar Energy USA office in Alpharetta, Georgia we get lots of calls from Georgia homeowners and Georgia businesses wanting to talk about everything involving solar panels. One topic we have discussed repeatedly is how solar panels work.
We get lots of questions about how solar panels are made, and if any companies sell 'Georgia solar panels' (which we assume means solar panels made in Georgia)?

We are proud to say, "Yes! There is such a thing as a 'Georgia solar panel' and we do in fact sell it!" We sell many types of solar panels, mainly American-made solar panels because they are much higher quality, including solar panels made in Georgia.
Solar panels are made by soldering together multiple solar cells/solar modules.
They are then cleaned, and placed into groups of multiple solar modules.
The modules are connected via a metallic conductor.
They are then covered with a large sheet of transparent glass, and that glass is covered with a giant sticker (basically).
The giant grouped metal solar cell sticker is placed in an electromagnetic oven that heats the solar panel to the necessary activation and power limit. They are then tested for performance manners and quality control measures.
So a solar panel is made up of a group of solar cells, and multiple solar panels make up a solar array.
We are proud to be a Georgia solar company supporting the Georgia economy by employing local Georgia workers and buying local products including Georgia solar panels.
Please feel free to contact us regarding any solar power question including more on Georgia solar panels and Georgia solar companies.
Featured Product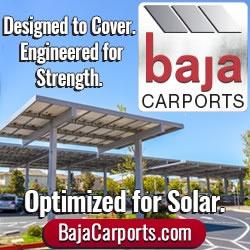 Baja Carports specializes in design-build Solar Support Systems™ for mainframe carports & shade canopies. Our patented product line is designed in-house by Baja engineers. Product structures are pre-fabricated from pre-galvanized high-tensile, light gauge steel, and installed by Baja crews. Carports, RV/boat storage, EV stations, & ground mounts are customized to meet customers criteria. Baja's objective for each Solar Support System™ is to leverage optimal electrical production while maximizing coverage. Baja produces cost-effective carports for commercial businesses.